The New Year is a perfect time to refine eating habits for a great year ahead. Stay on track with the help of Publix weekly pork specials. Incorporating lean pork in your diet is good and good for you.
I've had a week of foods that I won't soon forget. As the judge in a culinary competition, I had the pleasure of dining on some of the finest dinners that I've had in a while. The five contestants each made their signature dish. Of the five dishes, two of them were pork, and even though neither of them won, they were by far my favorites.
This left me craving more and thankfully, Publix has boneless pork loin chops on sale this week, so off I went with a list and a great new recipe that I found on the Pork, Be Inspired site for Braised  Pork with Peppers and Onions.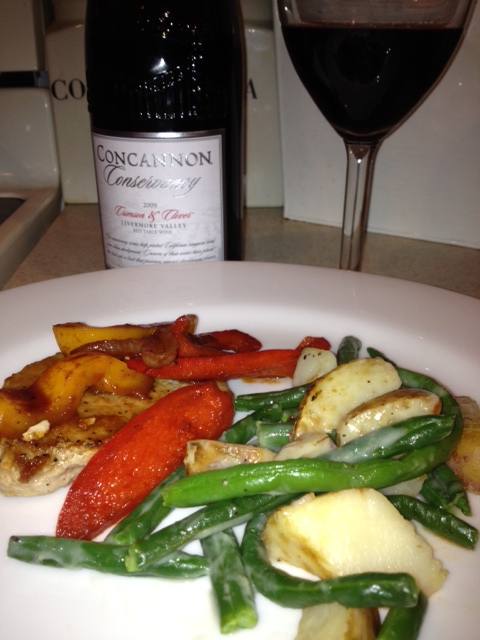 Braised Pork with peppers and onions – from PorkBeInspired.com
Prep time is 15 minutes and cook time about 15 minutes
Ingredients
4 boneless pork loin chops, about 1-inch thick, trimmed
2 teaspoons olive oil
Salt and black pepper
1 tablespoon tomato paste
2 small red bell peppers, or yellow bell peppers, quartered and cut into 1/4-inch slices
1 small red or yellow onion, quartered and cut into 1/4-inch slices
4 cloves garlic , thinly sliced
1/2 cup dry red wine, (for non-alcoholic, substitute chicken or vegetable broth)
Directions
In a large nonstick skillet over medium heat, warm oil. Sprinkle chops with salt and pepper and cook until browned, 3 to 4 minutes per side. Remove chops to a plate and set aside.
Add tomato paste to skillet and cook, stirring, for 15 seconds. Add bell peppers and onion to skillet and sprinkle with salt and pepper. Cook, stirring occasionally, until vegetables are starting to brown, about 3 minutes. Add garlic and cook, stirring occasionally, for 1 minute.
Add wine and bring to a boil, scraping up and stirring in any browned bits in the skillet. Return chops to skillet, nestling them in the liquid, and reduce to a simmer. Cover and cook 4 minutes. Turn chops, cover, and cook until internal temperature reaches 145 degrees Fahrenheit, followed by a 3-minute rest time.
Serve pork with pepper and onion mixture spooned on top.
Makes 4 servings
Nutrition
Calories: 360 calories
Protein: 45 grams
Fat: 10 grams
Sodium: 320 milligrams
Cholesterol: 110 milligrams
Saturated Fat: 3 grams
Carbohydrates: 10 grams
As you can see by my plate, I served them with a side of red potatoes cooked with string beans…a very colorful plate of deliciousness.
You'll find this recipe along with a great Game Day Pork and Chile Wrap recipe – perfect for half time at the BIG GAME on Sunday. I have to say that so far I have been inspired by the pork recipes that I've found there, and have enjoyed creating some new dishes for my family.  I've also begun to rely on Publix for some of the freshest cuts of pork around. Stop in and check out the sale on pork loin chops this week like I did.
This post is a result of a campaign by the National Pork  Council, Publix Supermarkets and The Motherhood. A girl's got to eat, so as always the spin is authentic and mine.