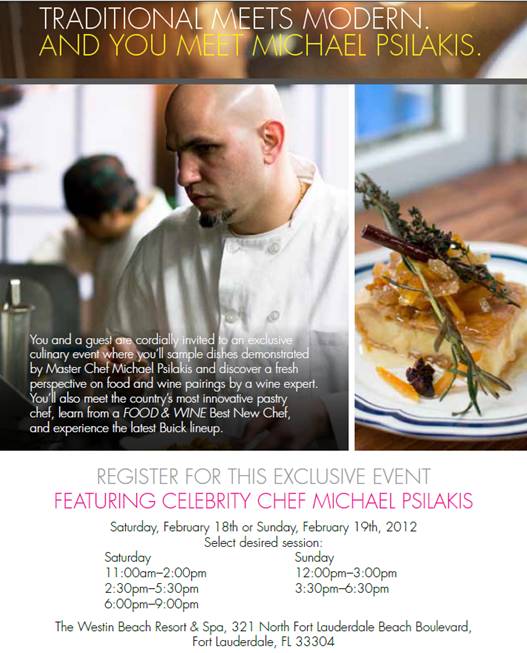 The Buick Discovery Tour is FINALLY hitting South Florida. They've been traversing the country going from city to city bringing those beautiful 2012 Regal Turbos, Lacrosses and Enclaves, along with celebrity chefs Michael Psilakis  – Food & Wine's 2008 Best New Chef and Bon Appetit's Chef of the Year and Hugh Acheson – 4 times James Beard nominee and Food & Wine's Best New Chef  of 2002. All of this takes place at the fabulous Westin Beach Resort and Spa located on the strip in Fort Lauderdale.
The day will be filled with wonderful food, cooked by these celebrity chefs as well as the opportunity to road test Buick's elegant new automobiles.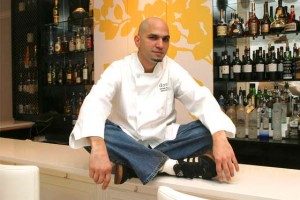 The question is…
WHO WANTS TO COME WITH ME?
You Do?
One of my South Florida readers will have the opportunity to experience some of that Champagne Living, drive those Buicks, taste food cooked by some of the finest chefs and walk away with an autographed copy of Chef Michael Psilakis' cookbook How to Roast a Lamb: New Greek Classic Cooking
 I'll be attending the 11-2 session on Saturday, February 18th.
GIVEAWAY
You must be a licensed driver to enter. 
Prize:  Ticket to the Buick Discover Tour
Thank you to GM of the Southeast and Food & Wine magazine for providing tickets. All opinions are strictly our own.