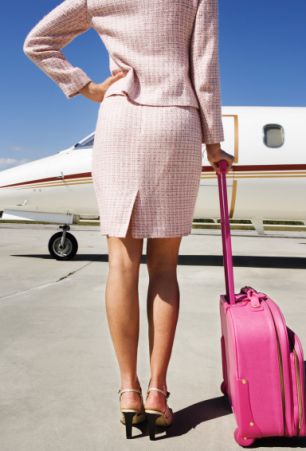 While the posts that grace Champagne Living about my wonderful travels may read like it's all glitz and glam, the truth is that about three hours before I'm ready to head out to the airport I'm a hot mess. Why? Because I'm one of those who THINKS she's got it together enough to wait until then to pack.
Then reality sets in – the clothes in the dryer that I was planning to take are still damp, I haven't even given a thought to the climate – so, some of the clothes may be packed away, those 3 oz bottles that should make it through TSA are EMPTY from the last trip I took, etc.   The crazy part is that none of this ever bothers me, as I figure that I can always pick up more deodorant, the toothbrush, jewelry & clothes (an excuse to shop) wherever I might be. It also means that I'm wasting some precious Champagne Living time running around.
With each trip that I take, I get a little bit smarter. I now keep my dopp kit and suitcase packed with these 12 20 items to make certain that I'm not cursing myself for leaving them behind.
1. Phone charger – After forgetting mine at home at LEAST a half dozen times, I went out & bought an extra and just keep it packed.
2. Band-aids, tylenol, antacid and imodium – When it hits or bleeds, you don't want to be searching a strange city looking for a drugstore at 1:00 am.
3. Umbrella – If  you don't you KNOW it will rain!
4. Roll up shoes – Those little ballet flats that you know you'll need to wear on your walk back to the hotel, over the cobblestone streets after a great bottle of wine (or two). Can you tell I've been there?
5.  Razor, toothbrush, toothpaste, deodorant, contact solution – Because I always forget one of them. Don't worry if you forget the shaving cream, just use the hotels hair conditioner – it's even BETTER!
6. Extra sunglasses/reading glasses – If you don't lose them, someone traveling with you will ask if they can borrow yours – it never fails. I grab cheap reading glasses from the dollar store.
7. Emtpy tote bag or duffle – I always end up shopping and love to have an extra piece of luggage with me for the return flight. Just pack a lightweight duffle and use it as an extra carry-on for the way home.
8. Bounce Lint Roller – It never fails that I'll have a black dress packed and it will be covered with dog hair, so I bring a small TRAVEL SIZE with me.
9. Downy Wrinkle Release spray – No matter how I pack (roll, fold, use little boards) my clothes get wrinkled. Personally I hate lugging the ironing board and iron out of the closet and wasting precious time ironing. So, I give  a quick spray , tug and smooth and get dressed….take THAT wrinkles! BONUS – it comes in a 3 oz size, which meets carry-on requirements.
10. Dryel on the Go pen – This instant stain remover is great on both washable and DRY CLEAN ONLY clothes (including hand washables like wool, silk, and more) which is why I choose Dryel over some of the other. So, that coffee I spilled on my cashmere sweater is gone without ruining the fabric.
11. Tide Travel Laundry Bag – I LOVE THIS! Somehow Tide made an odor absorbing bag of a breathable fabric that inhibits bacteria growth. That means that I can stuff Mr. S's dirty socks in there and not have my suitcase smell in the hotel room or my suitcase.
12. A sense of humor – Because I've found that you really need one when you travel.
As I said…I ALWAYS forget something, so what did I FORGET to include on this list that YOU always bring along…JUST IN CASE?
I received product to facilitate this post. All opinions are my own.