As the pandemic continues to move through 2021, more and more individuals are now working from home, and while this can be great, not everyone has an appropriate space prepared.
Creating a wonderful home office is not only aesthetically pleasing but also improves productivity and keeps you motivated throughout the day. Alongside this, it can be a great way to keep your life more organized.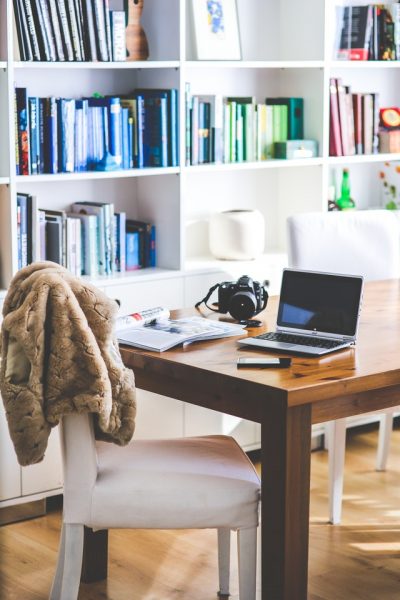 In this article, we are going to discuss some of the best tips to help you design an enviable home office. Interested in learning more? Then let's get started!
Pick the perfect location
The very first step in designing a home office is to pick the right location. Some individuals will have a spare room, which is great, but if not, you will need to find a quiet corner in the house. A small home office can still be functional. It just requires a little more planning in advance.
As well as having enough space, you should also keep in mind whether there is enough natural lighting and if the area will be quiet enough. There's no point setting up a desk in the kitchen or dining room!
Choose functional furniture
It's easy to want to choose the most beautiful furniture pieces for your office, but it's important to think about practicality first. The whole point of a workspace is to stay organized and productive, and the furniture should reflect that. An ergonomic office chair is a must, so make sure you look for something that will support your back. Alongside this, you'll need a desk that can fit your technology and a cabinet to store your bits and pieces.
Keep things minimal
The phrase "less is more" can certainly be applied when designing a home office. Having a clean area without unnecessary items can help keep your mind focused and will be easier to maintain in the long run. This doesn't mean that the area has to be totally bare, but it can be wise to keep décor to a minimum. The last thing you want is to clutter the area and not have any space to actually work!
Choose a productive color scheme
While you might not think it, the color of an office is extremely important. Certain shades will boost productivity and even give you more energy. Bright colors such as blue, green, and orange are popular as they can help improve focus. However, things like yellow and purple can also work well. If you really want to make the space unique, you may even consider installing a wood panel wall to add depth and texture.
Use greenery to your advantage
Alongside looking atheistically pleasing, plants and greenery are an extremely beneficial addition to any space. Certain types can reduce stress and sickness and even boost creativity. They have even been known to reduce noise levels! Some of the most popular desk plants include devil's ivy, pothos, aglaonema, and dracaena, but there are so many different options!
Keep things organized
In order to create a desirable home office, the organization is critical. No desk is going to look good with scattered papers everywhere! Luckily enough, there are many great items that can help. Shelves, notice and pegboards, labeled containers, desk organizers, and nearby cubbies can all be used to maximize your space. You can even get a mini desk vacuum to keep things extra clean!
Splurge on your technology
If you really want to splurge on any one item for your office, technology is the way to go. By having a great desktop computer/laptop as well as other essential gear like a phone and printer, life working from home will be much easier. At the end of the day, you pay for quality. The more expensive something is, the more use you will get out of it.
Finish everything off with homey accessories
Lastly, to finish off your newly created space, you want to decorate with some homey accessories. As mentioned above, the aim is not to overcrowd the area, but a few simple photographs or favorite items can be a great addition. Not only will it tie the space into the other areas of your home, but it can be nice to have a family reminder close by.
And that's it! These were eight of the best tips to create an enviable home office. So, what are you waiting for? Get out there and put your design skills to the test. You won't regret it!