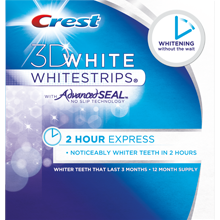 The other day I wrote about my 10 minute beauty routine but after reading it I realized that I left out the MOST IMPORTANT step. Taking care of your teeth, because if you're smile doesn't look good, no makeup in the world can cover that up.
The question is, how to get your smile looking it's best when you've got to be at that dinner, cocktail party, meeting in a couple of hours and don't have the time for a visit to the dentist?  I get to do a lot of very cool things, some of them are VERY last minute. For example, I was invited on a trip with only 2 days notice this month. I turned the trip down, because I got to thinking about all of the things that I'd need to get done PRIOR – hair cut & color, nails, pack and whiten my teeth. Silly me…Shana could have taken me last minute and my nails were just manicured in Jamaica last week. I'm a whiz at packing, but my teeth would take some serious planning (even using strips it generally takes a while).
Fortunately for me Crest 3D White 2 Hour Express Whitestrips can take care of those yellowing teeth and in just 2 HOURS!!! Each box contains 4 treatments, so I can do this every 3 months and have WHITE teeth for an entire YEAR, and Crest uses the SAME ingredient that dentists use (safe for the enamel on your teeth).
Crest 3D White 2 Hour Express Whitestrips give you
a whiter smile in just 2 hours
the white smile lasts for 3 months
4 treatments in each box (a YEAR supply of strips)
No slipping of the strips with Crest's Advance Seal Technology
Improved lower strip for even MORE whitening coverage

I may not be taking that trip to Micronesia (yes, I turned it down), but I am heading to Paris and there's nothing MORE important in the City of Lights than to look GREAT. It IS the fashion and beauty capitol of the WORLD. So, in preparation for my trip, I'm going to whiten my teeth.

OMG – they're YELLOW!!! It's even worse close up like this. I know it can't be just ME who has these last minute issues with teeth whitening. Come on now…
What life event would YOU whiten for in just two hours with Crest 3D White 2 Hour Express Whitestrips?
What if I told you there were COUPONS available for $7.00 off at LOTS of online retailers? NOW…What life event would you whiten for?
Check out the Crest 3D White 2 Hour Express Whitestrips facebook page, while I go put the strips on my teeth. I'll be back to show you the difference in a few days and let you SEE the difference 2 hours can make, and in the meantime…let me know what YOU'D whiten yhour teeth for in just two hours in the comments below or on my facebook page.
I am participating in a Crest 3D White 2 Hour Express Whitestrips campaign hosted by One2One Network. This is a sponsored post. All opinions are 100% my own.