I have a few favorite designers and season after season, Michael Kors always seems to be one of the top on my list. I WAIT patiently for his new collection and this Fall he's DONE IT AGAIN! Now, I don't have the money to be marching into Saks buying all of the beautiful dresses and outfits in his collection, but you may see me in the outlet malls at MK, being pulled like a magnet in the backroom at Loehmann's,  or even scouring through the racks at TJ Maxx and Marshall's for some of his casual wear collection.
I'm SO in love with that red gown on the right… but, the most PRACTICAL of all is this stunning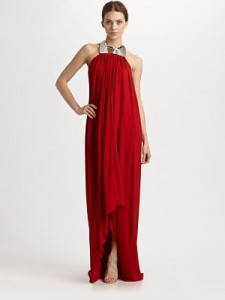 black tulip dress that looks like it can go from lunch with the girls to a cocktail party with ease….
This is one of those dresses that will be knocked off by some of the better companies this year, so I'm sure that I'll find something similar on a few of the racks at Loehmann's (ABS maybe?).
Guess I'll be stopping in at Saks 5th Avenue at The Gardens (Palm Beach), to check them out when I run in to buy my Chantecaille lip gloss next week.