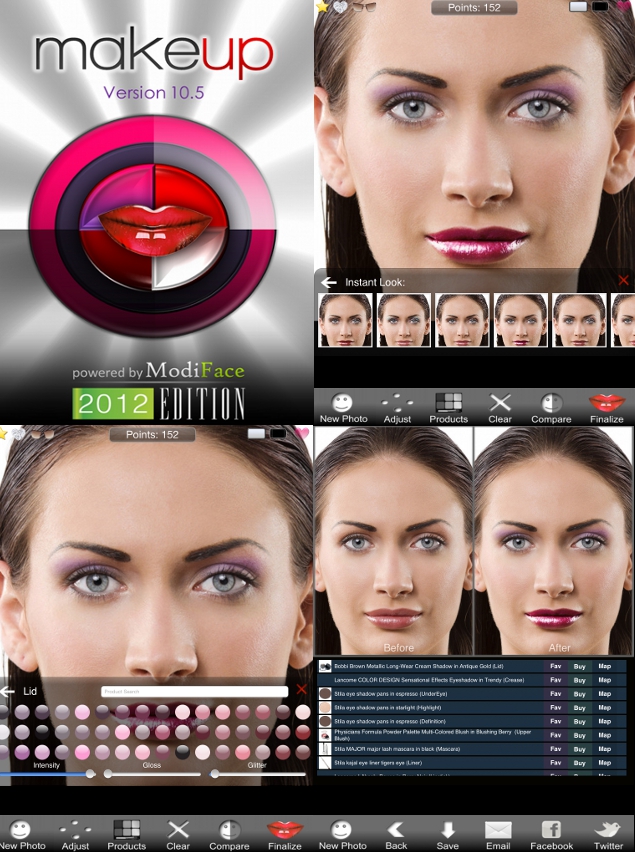 I don't write about phone apps.
When I'm pitched an app to review or try – the first thing I do is hit the DELETE button (the second is "empty recycle bin"). I was all set to hit the delete button on an e-mail for "MakeUp" when I realized.
I decided to give this one a try.
It's EASY to use, even for a techno-no like me! Other than the fact that I tried EVERY damn lip-color known to mankind (or in this case womankind), it was quick and a lot of fun.
What I like best is it means no more schlepping into the store for some overly-aggressive department store makeup artist to sell me CRAP that I don't need just because she has me in her chair and has just finished making me look like a runway clown (and yes, I have to walk through the store after hoping no one sees me before I hit the ladies room and SCRUB the layers of clashing colors off my face).
Here's how it works

1. Download the MakeUp App to your iPhone, iPad or Android
2. Upload a photo of yourself (I took a photo with my phone just now)
3. Try on makeup – there are THOUSANDS of  lip colors, eye shadows, blushes and foundations (all names you'll recognize).
4. If you LOVE what you see, you can purchase the ACTUAL product straight from the app.
5. Going out for a HOT NIGHT? You can even virtually try on red carpet ready celebrity hairstyles.
6. And that's JUST the beginning
Did I mention that it's FREE?
You can download the app here: http://itunes.apple.com/us/app/makeup/id314603460?mt=8