There's something about the rich history of a hotel that's seen everyone from the  "unsinkable" Molly Brown to the Beatles.  Walking through a lobby worthy of being on the National Registry of Historic Places I know that I'm not just staying in ANY hotel room. So it is with The Brown Palace in Denver.
Celebrating their 120 year anniversary, they want you and I to be a part of the party. Renowned for its soaring eight-floor-high atrium lobby, its Forbes Travel Guide Four-Star rated spa, its rooftop honey bee hives that supply the natural sweetener baked into the delicacies served in the six onsite restaurants, and its own artesian well that supplies water for the entire hotel, The Brown Palace is THE LUXURY location to stay when you're visiting Denver.
Imagine staying where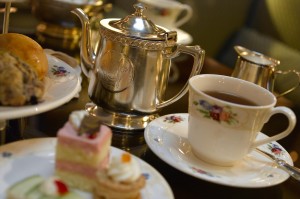 EVERY U.S. President has stayed since Teddy Roosevelt in 1905 (with the exception of President Obama – who has not yet visited and Calvin Coolidge).
The Beatles stayed in 1964 – can you hear the screaming fans in the lobby and hallways?
They bake their OWN baked goods ON SITE in a carousel oven that's over 59 years old.
Soaps, honey, etc. are made from a rooftop beehives
You'll enjoy the tradition of afternoon tea with scones, tea pastries and tea sandwiches artfully prepared by the hotel's culinary staff each day and Devonshire cream
The Dom Perignon Champagne brunch on Sunday runs from 10:00 – 2:00
You can spend the afternoon at the SPA at The Brown Palace relaxing or indulging yourself
Remember I said that they want YOU to celebrate along with them?
From now through November 5, 2012 they'll be giving away some FABULOUS prizes (and I always thought that the one having the anniversary gets the gifts). For full details head to Facebook and enter to WIN. Grand Prize is a luxury vacation at The Brown Palace. Other prizes include Marriott points, and journeys around the Mile High City.
To entice me they sent
Products exclusively made from their very own beehives on the roof of the hotel. The scones are TDF! I NEED to get to their afternoon tea just to have MORE of them.
For more information follow The Brown Palace on:
I received a gift from The Brown Palace to facilitate this post. Now I want to go visit.