When's the last time you snagged a great deal?
You know what I mean, the kind you come home and brag about to 
Hubby – who's eyes glaze over as you tell him
your BESTIE – who wants to know if there were any left at the store so she can run & GRAB one before they're sold out
your READERS – some of whom will have hubby's reaction and others will want to know why you didn't tell them FIRST
I snagged one this week and YES, I'm spilling the beans here, because it's something that YOU should know before anyone else (even my bestie's – and yes, the phone will ring within minutes of me hitting the "PUBLISH" button). What if I told you that it was as easy as going to facebook (where I know you are anyway) and checking in for jewelry that's influenced by the latest celebrity trends at incredible prices?
Beginning November 15th, Trend Snag will host live, fixed price auctions of runway-inspired jewelry and fashion accessories right on Facebook.
'How does it work?', you may ask. Simple…
 1. "Like" the Trend Snag Facebook page: http://www.facebook.com/trendsnag and register using the 'Register With Us' tab under the Facebook cover photo
2. Tune in and check out our limited collection of must-have jewelry & accessories on our Facebook page Monday + Thursday evenings at 8:00pm EST/7:00pm CST. Photos of the items are posted with price and description.
3. As auction items are posted, comment "snag" on items you will like to own. You've gotta be quick as quantity is always limited and first 'snaggers' win!
4. Pay your invoice and receive your 'snagged' items in the mail!
Check out my Bubble Necklace Set that I snagged

Trendsnag won't officially launch for another 3 weeks. So get a head start &
AND….
Enter below to win a Bubble Necklace set like the one that I'm wearing NOW.  Choose from one of the colors shown.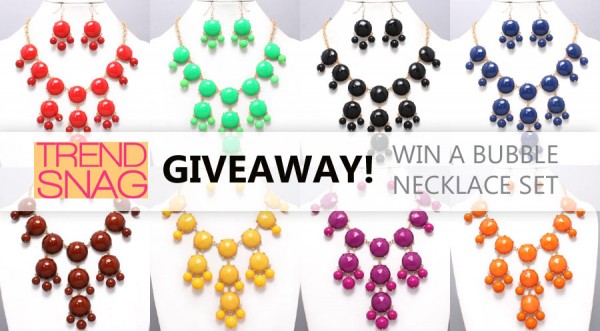 I received product to facilitate this post/giveaway.