I've enjoyed an afternoon Tio Pepe Palomino Fino and tapas in Jerez de la Frontera with members of the Gonzalez-Gordon family, and I've swirled, smelled & spit tasted with winemaker John Buechsenstein at the Culinary Institute in Napa Valley. I've enjoyed my favorite vintage while sitting in a cafe on rue Vieille du Temple in my Parisian neighborhood, and kicked back with a glass while watching the Real Housewives of Miami right here in South Florida.
Still, I get overwhelmed when walking into one of the many wine mega stores that have sprung up around here, and while I know that the staff is helpful – I don't WANT to have to decide between the more than "8,000 different wines" carried in their stores.
Which is why I am once again enjoying
My November selection from the California Wine Club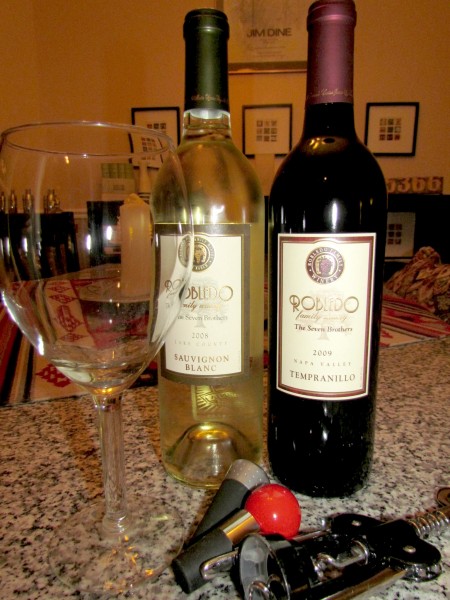 As always, they make it EASY for me to try new wines, sending me TWO choices each month. Once I try them, I can decide if I'd like to order more. The interesting piece of this is that the wines are VERY affordable.  Having just returned from Napa Valley, I can tell you that there are so many smaller boutique wineries that I wanted to try, but there are just so many, that it's near impossible to know where to go and what to buy.
More than three-quarters of California's 3,500+ wineries are small, boutique, mom-and-pop operations whose wines never travel beyond their local markets and private customer lists.
I'll admit that I like some wines more than others
(it would be foolish to think that I enjoy them all), with a crisp pinot grigio or a rich tempranillo being at the top of my list ~ and ANY type of zinfandel at the bottom. In the case of the Robledo's that I received, they were both quite nice.
The Sauvignon Blanc had a crisp citrusy flavor, making it an easy wine to go with anything from a  nice dinner salad to a hearty fish. I enjoyed it by itself, sitting on my back deck watching the sun go down on a South Florida fall day. Believe me, I needed the treat!
The Robledo Tempranillo felt more like a winter day, so I saved it for that awful chill that we just got through. Pot roast (with a splash of the wine) and a goblet of this spicy, full-bodied red that lingered a bit like a great chocolate were a perfect match.
With Thanksgiving on my mind right now, I think that both of these wines would be PERFECT for serving your guests. Personally, I don't subscribe to the white with chicken & fish and red with meat (although champagne does go with EVERYTHING), but rather drink the wine that you enjoy with WHATEVER you like. Me? I'll have both on my Thanksgiving Table this year.
Don't forget your holiday gift giving either! California Wine Club makes a GREAT gift for your parents, cousins, or that friend who has EVERYTHING.
California Wine Club is having a giveaway 
Prizes include:
1) One of four, Three Month Wine Club memberships (A $150 value you can give as a gift, or keep for yourself)
2) One of 50 handy Two Bottle Wine Totes ($25 value)
3) One of 50 Red Tulip Music wine country CD's ($15 value)
To enter just hop over to the California Wine Club Blogger Palooza Giveaway
For more information about CA Wine Club:
This review was made possible by Mom Spark Media. Thoughts are my own. I received a 2 month Membership to the California Wine Club for the purpose of this review.