BLACK FRIDAY
Whether you start your shopping by standing in line at 3:00 am, or like me, wait until Cyber Monday (11/26) to hit the computer and start shopping you can't deny, that the holiday shopping season is just days away. While I love getting new things (and yes, I can be somewhat of a shop-a-holic), this time of year just EXHAUSTS the heck out of me. Even if I'm at home shopping I get exhausted.
Shopping can be a FULL TIME job for me (given the opportunity).
The words SALE or CLEARANCE in a store like Nordstrom or Neiman Marcus can make me lose complete control….and that's not just at the holidays. I can RUN into a department yelling "CHARGE" with reckless abandon.
To ease the strain on my wallet
I try to shop online for those gifts that I hadn't picked up when I'm traveling. Cyber Monday STILL means getting up early to grab the deals, but at least I can do it with a hot cup of coffee in my hand while I'm lounging in my pajamas.  This method of buying for the holidays has it's own SPECIAL drawbacks, especially when I shopping at an online store that I've never visited before.
Here's what I look for
When shopping online I like to be certain that the site has security. While I've seen that little lock in the corner of my screen, and I know that https (vs. http) means "secure" there are still things that I don't know.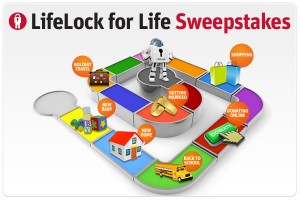 I learned by playing a game
That's right. I learned about online security by playing the LifeLock for Life Sweepstakes game on Facebook. For example…
Did you know that
Certain applications on Facebook can leave security holes which thieves can use to access your personal information such as your credit card number and passwords?
Not even MACS can protect you against hackers?
If a seller hasn't shipped your package within 30 days or by the date promised, you can demand a refund.
Just in case
In my wallet I hide money "in case of emergency"
For my credit cards – I have LifeLock to protect me in case of an identity theft emergency
The questions is
Who's going to help me with all of these bills that are coming in?
Head to the LifeLock facebook page and enter to win
. This months prizes include visa gift cards ranging from $100 – $1,000 (now that's a LOT of shopping).
This Black Friday, LifeLock will also be hosting a Black Friday Twitter Party!
Date: November 23rd
Time: 3pm PST
Hashtag: #LifeLock
This is a compensated program, all opinions are strictly my own.
Photo credit: Express Monorail / Foter / CC BY-NC-ND