It's a dog's life – at least it is for our four-legged family member Clem (short for Clemenza). He eats better, goes out and plays, and I swear he gets his way  more often than I DO. No…that's not an overstatement. He gets the best organic dog foods mixed with protein that we cook for him every night.
And now this…..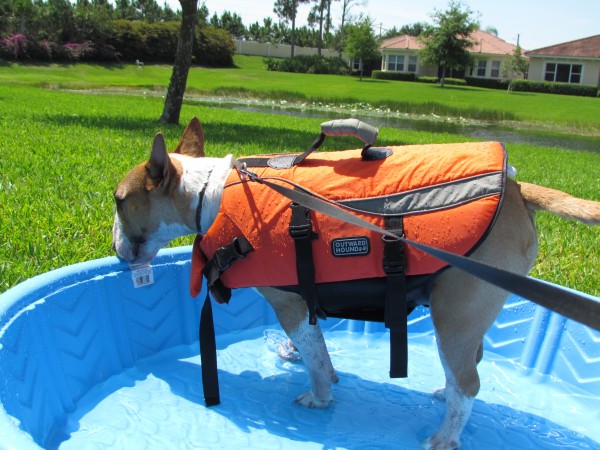 Mind you, the mansion has a community pool, but Clem has his own, and just for safety sake he wears an   Outward Hound™ Pet Saver™ Lifejacket !  OK, so we put it on him for this post, but he wears it regularly at the beach. Clem's what you'd call A SINKER. With a muscular body and short little legs, he loves going in to the water, but can't swim…he SINKS. To keep him safe at the beach or if we're off boating I like to keep the   Outward Hound™ Pet Saver™ Lifejacket on him, so I don't have to hold him up in the water the entire time.  If he DOES ever fall in, I can easily spot him with that neon coloring and I simply grab the handle on the top of the vest and pull him out (if I'm out on a boat, I can use a boat hook to grab him as well). The fit is great, as it combines both velcro on a neoprene belly-band as well as on an extra under the head flotation bar (to keep his head up) along with canvas straps that buckle. It's even got reflective fabric, so that you can see your pooch if he/she falls in at NIGHT! The best part, you don't have to search out a Marine Store, as these are available at your local Petsmart.
While we're out on the beach we also play catch with his KONG flyer. Clem is a bit tough with some toys as he has that bull-terrier grip, which is why I buy him KONG products vs. those flimsy balls and frisbees.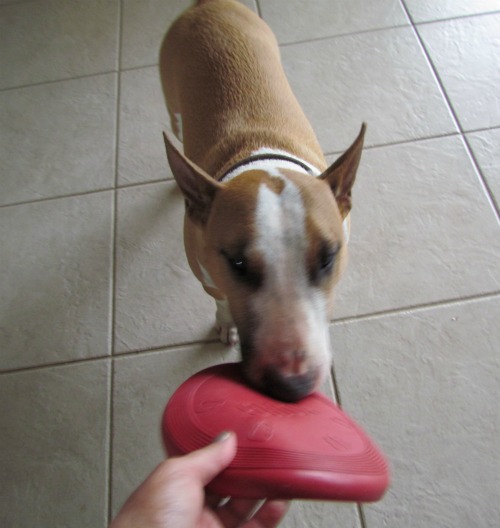 Designed with your active dog in mind
Soft & flexible rubber formula
Accurate flight, soft catch
Fun exercise for you and your dog
Veterinarian recommended
With this toy, I don't worry about him chewing it to bits (he's been known to demolish a toy in seconds). It's flexible rubber is safe for his teeth. I just need to learn how to throw it so it doesn't just plummet to the ground (I've never been very good with them). They're available at Petsmart both in-store and online.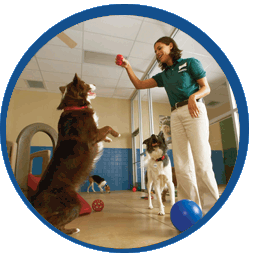 Still, there are plenty of times when we need to get away on our OWN vacations and leave Clem behind. If we're going to be staying at the Ritz in Manalapan, he'll be nearby in Delray Beach at the PetSmart's PetsHotel®. See, I told you he has a great life. These hotels have personalized care for you dog 24/7  (unlike when I used to leave  him at the vets office, only to find out there was no one there overnight). They even have veterinarians on call in case of emergency. I can go away knowing that he'll be hanging out with his doggie friends during the day at the Doggie Day Camp.
PetSmart Doggie Day Camp is a superior alternative to dog sitting. It's a place for your pooch to enjoy hours of play and exercise when you can't be there. Your best friend will enjoy playing with our caring staff and other friends who have been screened for group dog day camp play. You'll feel good because a day at dog day camp is good for her, and when you pick her up, her wagging tail will tell you she's happy. What's more, a day at dog day camp is ideal for helping her burn off extra energy.
PetHotels are located in select Petsmarts. Check locations to see if there's one near you.
Clem received product from Petsmart to facilitate this review. All opinions are his our own.