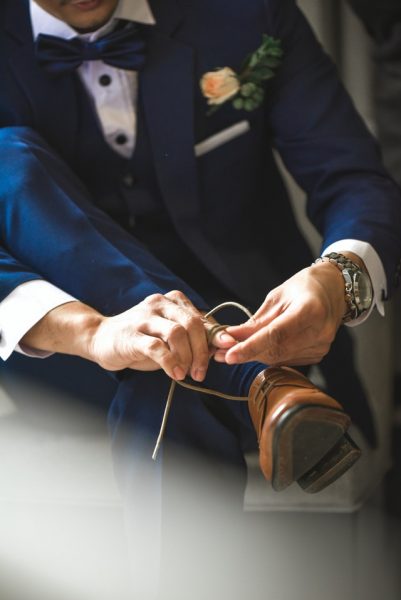 Getting ready for one of the most important days in your life can certainly be a stressful experience. Naturally, you want to look your best, but you also want to ensure that you don't clash with your future partner and their bridal party.
Luckily, there are a few rules you can follow so that everybody shines on this special occasion. Want to learn more?
Below we are going to talk about eight style tips grooms should consider on their big day.
Let's get started!
Don't be afraid to add color.
You might be tempted to stick with a traditional black and white suit, but color is a great way to reveal your personality. Something like navy blue or deep green can look amazing, and you can even think about choosing different colored separates.
Obviously, you might prefer a darker color, but don't limit yourself when you are trying on different options. You never know; you might end up surprising yourself.
Spend the extra for tailoring.
If you are on a budget, you might be tossing up about whether you should get your suit tailored. Well, trust us when we say it's definitely worth it. It might seem like only a small change, but you would be amazed at how much more confident you will feel when it is altered to fit you perfectly.
Just make sure that you choose a reputable tailor and give plenty of notice. You don't want to end up without a suit at the last minute.
Use patterns to your advantage.
Patterns can be intimidating at first, but they can actually be a lovely touch to your final look. For instance, specific patterns such as a thin vertical stripe can make you appear taller.
Another great advantage is that they can help you stand out from your groomsmen if you opt to have them stay in solid colors. It certainly is an excellent way for you to show your uniqueness.
Pay attention to the small details.
.
Understandably, you might be focused on making sure your suit is 100% ready, but don't forget that there are other smaller details that still need your consideration. From your cufflinks and belt to whether or not you will need lifts shoes. All of those little details really do matter.
Make sure to follow a checklist so that you have everything you need. You also want to keep everything together to avoid items getting misplaced.
Make a statement with your neckwear.
Choosing the right color tie is probably one of your biggest concerns about getting ready. However, just because you might need to match the theme doesn't mean you have to be stuck with a dull and simple design.
Play around with patterns, or consider choosing a different alternative altogether, such as a bow tie, ascot, or skinny tie. Who knows, you might even decide not to wear one if you're after a more casual look.
The options are endless.
Consider the season.
Another one of the most crucial things that you want to consider when choosing your overall style is the season. You don't want to wear a heavy-duty tweed suit in the middle of summer.
Think about the weather, and don't be afraid to seek inspiration from the season's color scheme. Deep burgundy in autumn or light blue in summer are just a few examples that you should keep in mind.
Coordinate with the bridal party carefully.
Understandably, you want to ensure that you, your groomsmen, and the bridal party all coordinate together. However, that doesn't mean you should be identical.
Having a little bit of difference between everyone will actually look better in photographs. You don't want to look like clones.
Be true to yourself.
Finally, the most important tip to follow when getting ready for your big day is to remember to be true to your individual style. While you might need to make some compromises to fit the wedding theme, you still want to be comfortable.
Make sure that you have your own input so that you can be confident. It's your day, after all, and feeling your best will make it all the more memorable.
Final words.
And that's it! By reading through the above, you can get ready for your special day. As nervous as you may be, try to remember why you are getting married in the first place. All of that planning will be worth it.
What do you think? Are there any other tips that you would like to recommend?