I've never been to London. The only "Big Ben" I've ever seen has been my son (6'1″ to my 5′). I have however attempted a British accent…and I could have pushed Josh Hartnett off this list. So, when Virgin Atlantic challenged me to create a London itinerary inspired by some random items that they'd be sending me, I though…WHY NOT?
What I thought I'd get
Fish & Chips
A Tower of London Key Ring
A gift from Harrods
Sure, I could create a fantasy itinerary out of those…I THINK (although, as I said, I've never been there…unless you count watching Love, Actually more times than I care to admit).
Here's what they sent: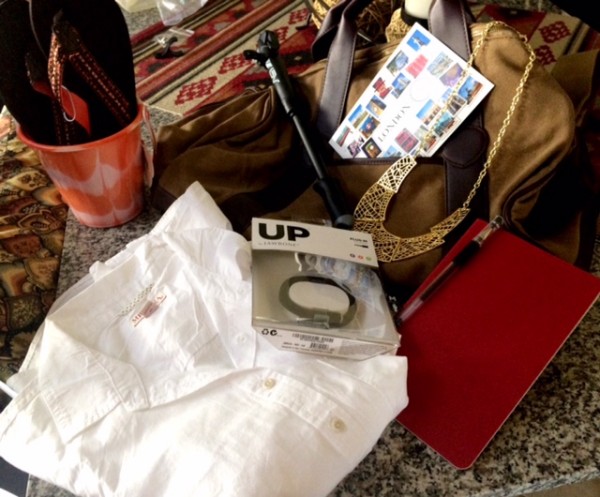 A White shirt
Flip-Flops
A Sand Pail
Jawbone Up
Notebook & Pen
Gold filigree necklace
A selfie stick
All packed in a duffel bag
Where are my fish & chips and Map of Harrods?
Shoot….this is going to be harder than I thought.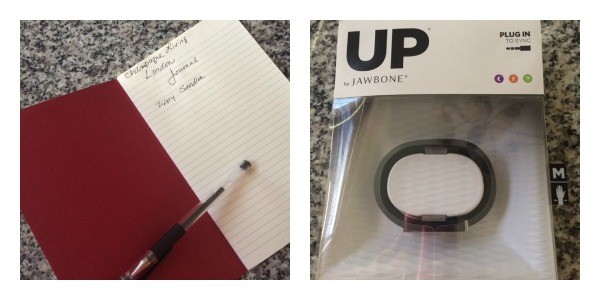 First things first. I need a plan. I'm going to grab that journal and start writing…as a matter of fact, I think I'll head over to Hyde Park and find a bench to start planning my journey in the city. Hyde is one of the Royal Parks and I've always wanted to enjoy the summer breeze while on a pedal boat on the Serpentine. It's a good thing I put on the Jawbone Up, because this park covers 350 acres, and I'm SURE to get those 10,000 step in today!
I'm ready to see the sites.
The gold filigree necklace reminds me of a bridge….THAT'S where I'm heading next. To LONDON BRIDGE!! The perfect place to get a real feel for historic London. Hmmm….there are LOTS of bridges, here, but the Tower Bridge is the one that I want to see. I hear that you can head up the lift and enjoy the walkways and even have a tour of the engine room, and if you're not TOO afraid of heights, there's now a glass floor to look down at the bridge traffic below.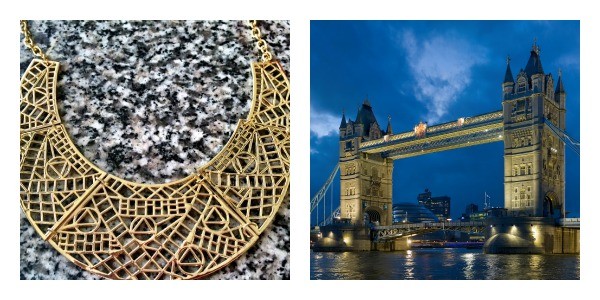 Next it's off to Harrod's to do a bit of shopping, because I'm just not a plain white shirt type of girl and I've got a full day still ahead. I need to get that London look that I see in all of the fashion magazines. Now what do I get to go with THIS?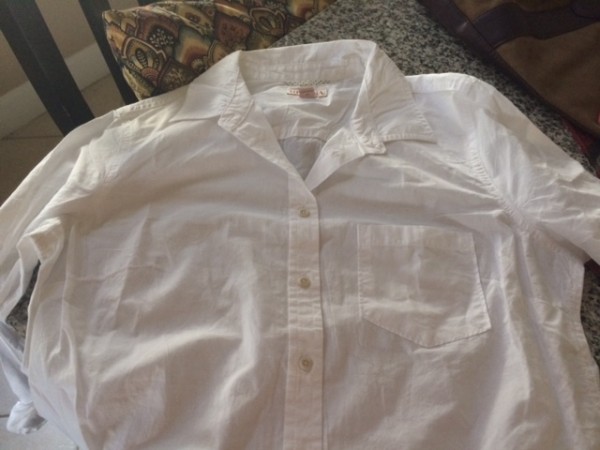 I need a handbag, a scarf, oh and a new blazer, maybe a pair of navy slacks to go with them, and Harrods has an amazing beauty department, with all of  my favorite skin care brands. Don't let me leave without purchasing a hamper full of their famous food and wines. Of course I'll take them all in those famous Harrod's shopping bags! You know me, shopping is my number one sport.
I wonder how many steps I've done with all of the shopping and trying on? Better check that Jawbone Up.
All of this running around has made me hungry, and the pail gave me an idea. While I wasn't ready to go to the beach, I did want something from the ocean. I've been craving some of those famous English fish & chips, so why not head over to North Sea Fish for lunch? I wonder if they serve it in newspaper?
Well fed and relaxed, I'm ready for a little culture.
Selfie sticks were recently banned in at the National Gallery….and rebel that I am….I hide my phone & stick in my Harrod's bag and hope that they don't see it as I wander through Trafalgar Square and head into the museum to check out the new Monet exhibit. Since photos are a "no go", maybe I'll just pull that journal out and sketch a bit.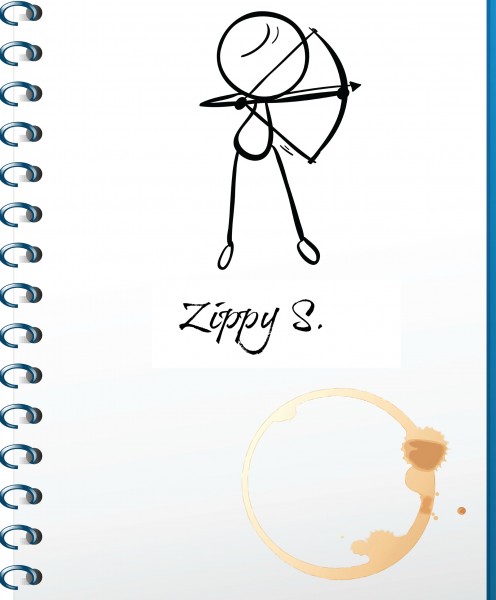 I'm not sure that I'm gallery ready yet.
Let's see, I've enjoyed the parks, seen the sites, immersed myself in culture, and shopped. I think I did pretty well with only 12 hours. The only thing left to do is walk along the sandy shore of Thames in my flip-flops and take a final look at the beautiful city. Maybe I'll even pull out that pail and build myself a Windsor Castle in the sand before heading back for the evening.
Want to try to make an itinerary from items you choose? Go to Virgin Atlantic's Let It Fly and pack your own virtual dream bag, and based on the items you choose you'll get an itinerary for YOUR perfect trip, with advice on where to go, what to see, where to eat and what to do.
For more on Virgin Atlantic
[bctt tweet="7 random items, packed in a travel duffel…where in London will they take you? With @VirginAtlantic"]