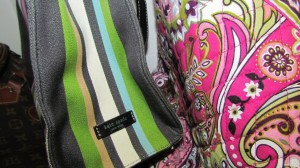 I'll spare you the rest of the photographs, but one look in my closet and you'll see Vera Bradley, Kate Spade, and MORE. It's no secret that I love to shop, and shoes, scarves, and handbags are the THREE things that I tend to splurge on. No matter how much weight I've gained or lost these three items will always fit and if I've bought them RIGHT, they'll last for a very long time.
So, what do you look for in a handbag? If you're plunking down your hard-earned money on a good bag, there are some things that you're going to want to look for.
Especially if you're looking for an investment bag (you know, those handbags that will be in style and look as great in 10 years as they do the day that you bought them). Investment bags are especially awesome because they also promote the slow fashion principles of quality, versatility, and functionality.
Here are seven tips on buying a good handbag from Megan Johnson who's the lead buyer at LuckyChic
1. Durability- No matter how much you plan on spending on a bag, you're going to want to make sure that the purse is worth what you're paying. Inspect the material, the seams and the zippers. If there are any signs of wear, tear or weakness in the bag it probably won't be a bag that will give you much mileage.
2. Size- Think about the essentials you always keep in your bag and make sure that your purse has enough room to accommodate them. If your purse doesn't fit the bare essentials it defeats the purpose of carrying around a bag. Depending on whether you're going to use the bag at work or when going out on the town can help you determine what size makes the most sense for you.
3. Color- When you buy a purse it's important to find one that will match well with your wardrobe. If you buy a bag that doesn't mesh well with your style you'll find yourself spending more cash on a new wardrobe to match it, or worse yet, hardly using it. Also, consider your own clumsiness factor; be sure to veto a light-colored bag if you have the tendency to spill.
4. Functionality- Before buying a purse be sure to take into consideration how secure your belongings will be held inside. If you're a city gal, or just generally around hoards of people, a zipper or button top is a wise decision to avoid spillage or stolen goods.
5. Portability- A purse is meant to be carried around and it's important you consider how you're most comfortable carrying your purse. Do you prefer carrying your bag on your shoulder or on the crook of your arm? Consider the length of the handles and how they coincide with how you like carrying your bag.
6. Quality- Although you can get some great deals without breaking the bank, be sure that the quality of the bag is still there. It might be worth spending an extra few dollars to ensure the longevity of your purchase. If you want a bit of a cheat sheet to help you make that decision, one approach is figuring out the "cost per wear" which can be determined by dividing the price of an item by the number of times you think you'll use it. Not surprisingly, sometimes the cost per wear for a more expensive purse will be less than an inexpensive purse due to the quality and its durability. Explore your options which might allow you to purchase a higher-quality bag than your budget would usually allow. Check upscale consignment stores, flea markets (beware of fakes!), or websites like LuckyChic.com which allow bidders to score designer bags for 80-90% off retail value.
7. Style- If you're looking for a purse that you'll be able to use for many seasons, try to avoid any overly trendy purses that you'll be content wearing for a few months, but will likely end up in the next year's potential Halloween costume pile. Trendy purses often have more embellishments (fringes, buttons, large hardware) over a more classic, clean style.