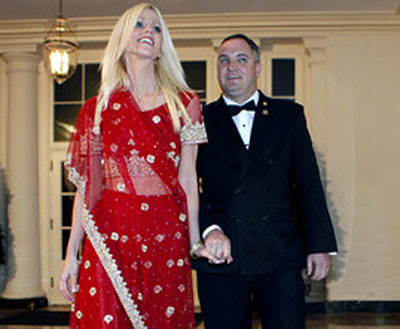 While I'd never tell you that it's okay to party crash, there are times when you find yourself just DYING to go to an event without an invitation. My Advice?
1. Don't EVER crash a house party of someone you know well. If you weren't invited, there's a good REASON.
2. Don't crash charity events and balls. You'll just look CHEAP.
3. GO AHEAD and CRASH gallery openings, premieres, parties at the hottest clubs in town, product/brand launches. They'll NEVER know that you weren't invited.
How to Crash a Party
DRESS TO CRASH – Don't show up looking like you don't belong. Remember that elegant little black number you've been waiting to wear? This is JUST the occasion to pull it out and look stunning. If it's a small event show up with a bottle of champagne in hand for the hostess.
TICKET EVENTS – The easiest way to crash a ticket event is to show up with a group of friends who have tickets and just walk in with the crowd.
DEALING WITH THE DOORMAN – Give your name at the door and ask him to check the list (of course you won't be listed). When he can't find your name, be very gracious and explain how your best friends are inside waiting for you and that you know it's just a simple mistake that you're not on his list. Remember, you catch more bees with hone, so sweeten him up! Begging will only get you kicked to the curb.
PREMIERES, RELEASES, BRAND PARTIES – Come equipped with business cards in hand. Tell them that you're a client, press, etc., and that your company worked on the event.
AT THE PARTY – Talk to those people that others are seemingly ignoring. Act like you belong. Work the room. DON'T PIG OUT on the food. Look like you're having a good time. Compliment the host.
LEAVE WITH PANACHE – Don't make a scene, but do thank the host/hostess, letting them know that you had a wonderful time.