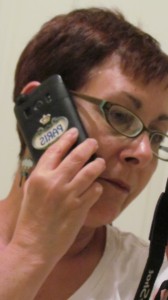 No one has ever accused me of being graceful. Oh yes, I am great on the dance floor, as a matter of fact, I went to college and studied dance therapy. I danced with Julie Strandberg at Brown University, and took master classes with Martha Graham at the American Dance Festival. On stage I can glide across the floor. Clay Tagliaferro (of the José Limon dance company) once said that I was the only person he knew that could trip over a stick on the way to class, come in all bruised and totally turn it "on" in rehearsal (this came after I actually fractured my foot, tripping in the woods on the way to one of his classes at RIC many years ago).
Needless to say, I need protection, and so do the items that I carry. I just don't pay attention to the unimportant things (like walking).  My phone is the ONE thing that I need to protect the MOST. Why? Well, not only is it my connection to family & friends, but I also use it to check email, twitter, etc.
Knowing all of this…I only trust ONE company to protect my mobile phone (from MYSELF)….OTTERBOX.
Otterbox recently debuted the REFLEX series and sent me one to try. Unfortunately, I have an EVO and they don't make those cases for my phone yet (I have an Otterbox Defender on mine). Still, I was curious as to how the Reflex Series differs from what I'm using now.
Unlike traditional cases, the Reflex surrounds your mobile phone with a  cushion of air. YES AIR. The case comes in 2 pieces and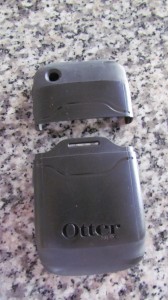 when dropped it acts almost like a shock absorber by flexing on impact and then returning to it's original form. Kind of like what the crumple zone of a car, this case not only takes a hit but recoils and springs back, ready to protect again and again. It's also much THINNER than the model that I'm currently using. I can't WAIT for Otterbox to release the reflex for EVO, because I'd love to have the lighter weight case and the added protection.
Otterbox's Reflex Series is currently available for the Blackberry Curve,  iPhone 4, and the iPod Touch/4th Generation and sell for under $45.
I know that my phone is an investment, and it's worth the piece of mind that I get from using Otterbox cases.
I received product to facilitate this review. All opinions are strictly my own.