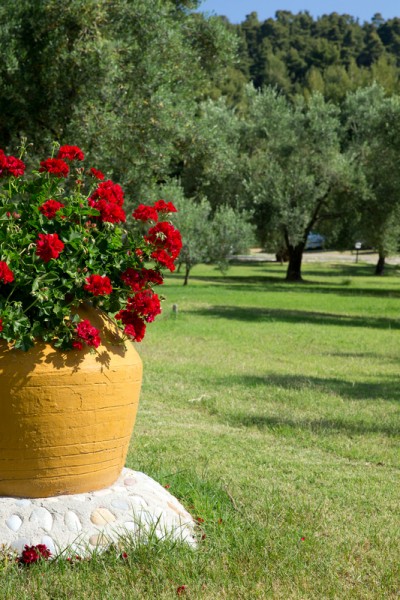 In all honesty, my lawn looks like a mish mosh of grass, weeds and red ant hills. I suppose some of it is from my lack of watering, but I also don't take very good care of it. So, I decided to go to the people who REALLY know lawncare for a few must-do tips for this coming Spring.
1.   Spring cleanup:
Before you beautify, clear away debris such as dead, downed branches, which can wreak havoc on lawn equipment and suffocate grass. If cold and wind have damaged tree or shrub branches, prune back to live stems. To cut through small- and medium-sized tree limbs with ease, use a chainsaw, such as the Craftsman 24 Volt Chainsaw, which provides high-performance cordless power. Make sure that you first check the chainsaw user manuals so you don't get hurt.
2.   Aerate your lawn:
After cleaning up, aerating – or poking small holes in your lawn – is a great way to improve oxygen circulation and nutrient penetration. Consider ventilating your lawn with spiked shoes or aerating tools.
3.   Fertilize:
General lawn maintenance recommends fertilizing in the fall before weeds can leave their seeds for the next year and again in the spring. Feeding your lawn in the spring strengthens roots and gets it off to a good start before the heavy growing season ahead.
4.   Overseed this spring:
After applying fertilizer, overseeding your lawn can help revitalize grass and cover bald spots.
5.   Neaten up hardscaping surfaces:
When it comes to the perfect lawn, the details count. Ensure the edges of patios and paths are well defined with a trimmer, which will allow you to go where a mower won't. Lightweight trimmers, such as the new Craftsman 24 Volt Line Trimmer, which has a rotating steel shaft with seven different pivoting cutting head positions, will let you trim even the most difficult-to-reach spots.
6.   Mow the lawn:
A freshly mowed lawn is one of the most prominent features of a well-manicured yard. Owners of large terrains should consider riding mowers to make the job more enjoyable. One option, the new Craftsman Pro Series 24 HP V-Twin 46 in. Riding Mower, features electric power steering, making steering 40 percent easier while maintaining high maneuverability when navigating the lawn. It's also equipped with Turn Tight Extreme Technology, offering the tightest turning radius in the industry at five inches, saving mowing time and making turning easier.