If you're looking to improve your home cooking skills, you're first going to need a kitchen that's fit for purpose. In order to make that happen, we've got a list of suggested kitchen upgrades that'll give you the space and resources you need to improve your cooking and enjoy it at the same time. Each of the upgrades we're about to discuss will bring something new and important to your kitchen, so read on now to find out more about them.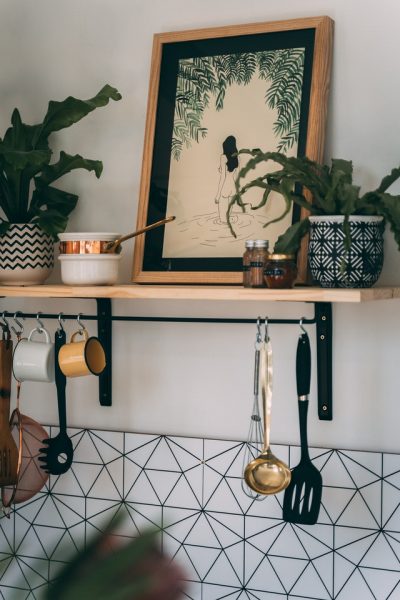 Hang Your Utensils for Easy Access
It doesn't take much effort to simply hang up your kitchen utensils, but it does make a difference to how you use your kitchen. For a start, it frees up space in other areas of the room that can then be put to better use. On top of that, you'll always have the utensils you need within easy reach when you're cooking and preparing food, and that's exactly what you want.
Install Better Lighting
Improving the lighting you have at your disposal in the room is another thing that'll make a pretty big difference in how you cook. The better the lighting is, the better you'll be able to see what you're doing. Not only does it make cooking easier and safer but also makes the space a more enjoyable space to dine and enjoy time with the rest of your family.
Professional Grade Pans
If you're cooking with old pans that have definitely seen better days, it might be a good idea to make a change. You should take the time to read some reviews and find the pans that are going to serve you well for a long time to come. Ideally, you should look for professional-grade pans that are going to offer what you need and stand the test of time.
Enhanced Counter Space
Improving the amount of counter space you have is something that can be done in a variety of different ways. You might want to simply replace your old counters with better surfaces, or you might want to extend the counter space you have in your kitchen as things stand. Tailor the counter space to meet your needs going forward.
Install a Rack to Organize Your Herbs and Spices
Finally, you should think about installing a rack that allows you to properly organize all the herbs and spice you use. That way, when you're making dinner in the evening, you can easily reach over and find the herb or spice you need, rather than having to rifle through the drawers and cupboards trying to find the one you're looking for. It'll make your life a whole lot easier.
These simple kitchen upgrades will make your task of cooking in your kitchen easier each and every day. Each of these changes has the potential to make you a better cook, and that's something that'll benefit you and your whole family who you cook dinner for each evening.