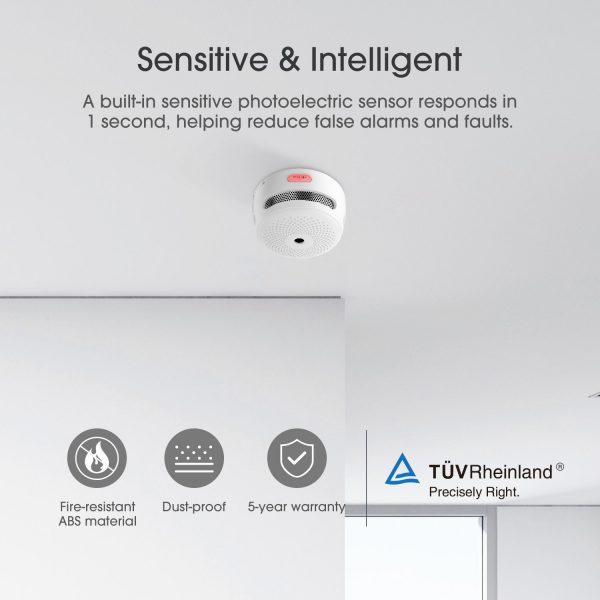 You leave no stone unturned to keep your home safe from the risk of any potential hazard, right? You may try your best to be cautious at every step, but a fire can break out if you are absent-minded even for a second and become a cause of a life-threatening issue.
What can be better than getting notified of any smoke build-up that can lead to a fire mishap immediately? A quality smoke alarm can be your savior here, alerting you of any impending havoc so that you can avoid the hazardous consequences. If you are thinking of getting a smoke detector, there is no better option than X-sense XS01-WR. It is affordable and responsive enough to offer you ample time to escape a mishap.
X-sense XS01-WR is the Best Wireless Interconnected Smoke Detector
X-sense ensures your peace of mind and a care-free sleep putting the advanced technologies while developing the X-sense XS01-WR smoke alarm. It is a premium-quality device that secures your house/company through its premium features. Let's go through a quick review of this stunning smoke alarm!
X-sense XS01-WR is Built with Advanced Photoelectric Technology
This smart smoke detector works based on the advanced photoelectric technology that utilizes sensitive photoelectric sensors, making the detection process faster than ionization alarms, yet reducing the chances of false alerts. It means a single device can save your home and life, notifying you of any smoke cloud within no time, ensuring the possible accuracy!
Wireless Interconnection
The most appealing feature of X-sense XS01-WR is, you can interlink up to 24-detectors compatible only with X-sense smoke alarms and build a network. Guess what? This super-smart and responsive detector is battery operated, which means you don't need any wiring to interlink the devices.
Built-in RF Module
X-sense XS01-WR features a built-in RF (Radio Frequency) module that allows the devices in the network to interconnect, send and transmit signals within a blink of an eye throughout the house wirelessly! The faster you get alerts, the quicker you can take steps to save life and home.
The best thing is, all detectors will keep sounding (with alarm loudness above 85dB) over the detection of smoke by one device.
Full Coverage of the House
As already said, X-sense XS01-WR is battery-operated and offers interconnectivity. No matter how big your house is, it ensures your entire home is under its full coverage. As all the interconnected devices get triggered at a time, no matter where one of the detectors detects smoke, every hook of the house will be notified. Thus you can get enough time to evacuate or avoid the fire risk.
X-sense XS01-WR Comes with Longer Lifespan
Every fraction of a second is significant, especially when a potential mishap can befall upon your life and property. To let you always be surrounded by the protection layer against fire break out, X-sense XS01-WR comes with a service life of 10-years.
It features a 3V Lithium battery coming with a 5-years replacement guarantee. The self-check feature of this premium smoke detector alerts you if the battery goes low. So you can have a replacement for the continuous protection of your house!
Multifunctional Test Button
To ensure the smoke detectors of the network don't give you false alerts, you need to place them thoughtfully. Once the alarms get triggered, they keep notifying you for nine minutes. If the alert is for any non-emergency circumstances like cooking smoke, you can press the silence/test button and mute the devices. This silence/test button also allows you to interlink all the devices within seconds! You can locate the originating detector creating the alarm first using the silence function. Pressing and holding the silence/test button of an alarm also allows you to go through the diagnostic test of all the interlinked detectors.
Quick and Easy Installation
Don't fret if you don't have the skill of installing electric devices. X-sense XS01-WR smoke alarm is very convenient and won't take more than five minutes to complete its installation process. You only need mounting brackets, screws, and anchor plugs: all come with the detector! Once you have them in your hand, you need to select the place of accurate height to install the device. Fix the device with the tools, and you are done with the installation process!
Design and Compactness
X-sense XS01-WR comes in a white and sleek plastic structure. It is super-light, looks elegant, and matches any style of the house effortlessly. The smart design combining with advanced technology makes it worth your money.
It is not only smart considering its appearance but also the built-in insect-free and dustproof technology make it serve you for longer being your ultimate safety expert!
TUV and CE certification
X-sense XS01-WR is the name of a trustworthy product that promises to ensure the safety of your house from any fire break out. Like other X-sense products, before it reaches your home, the authority ensures the smoke alarms go through rigorous inspections to satisfy the UL 217 test. Moreover, X-sense XS01-WR is TUV and CE certified, which indicates the product is safe and unblemished.
X-sense XS01-WR is another surpassing innovation of the X-sense brand that enhances the safety of your family and house, notifying you of any fire accident faster than ever before!