Evan received a Radio Flyer Build a Balance Bike to facilitate this post. All opinions are his and his mom Cayce's.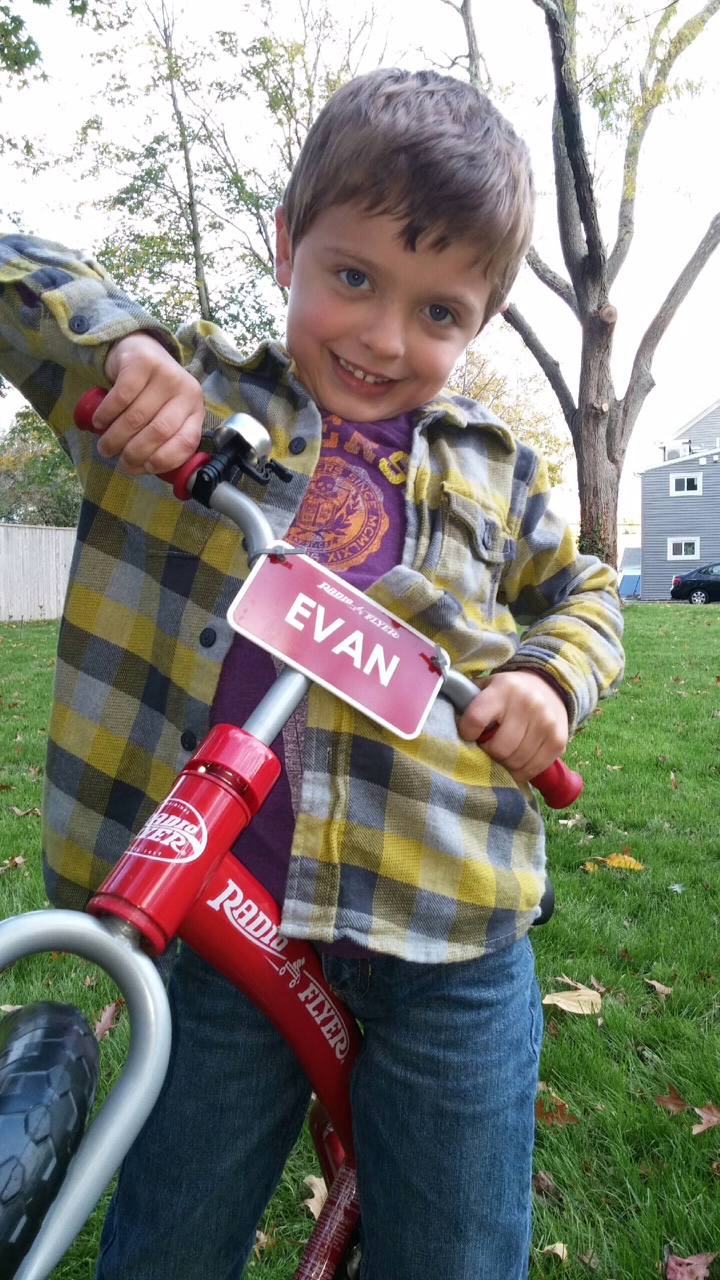 Evan looks like a big boy….he's tall and lanky and people mistake him for a 7 year old, but he's only 5. His coordination is slower and he gets frustrated watching the older kids who look like they're his size. While the rest of the block is tooling around the neighborhood this fall on their fancy two wheelers, Evan watched wishing that he could whizz around with them.
We learned about this new Build-a-Balance Bike a few months ago, and when we told him that he could ride on only 2 wheels as well, he got very excited. Evan and I went onto the Radio Flyer site and picked customized his bike so he'd look like the bigger kids. With over SIXTY different combinations to choose from, he knew he'd have JUST what he wanted. He went for the standard steel frame with red (other options include wood and colors also include pink). He even had the option of Duratread or air tires!!! It was like going to the lot to look at cars, there were lots of fun (and important) choices for him to make.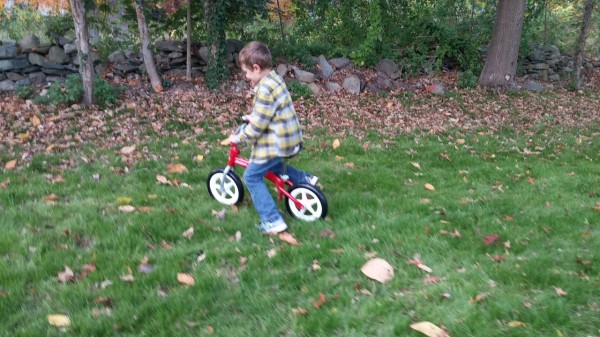 He further personalized his new ride with a custom name plate and of course a bell, so the rest of the gang could hear him coming. Handlebar streamers are also available to add.
Once it arrived he practiced by riding up and down the long hallway and around the house. As he began to feel comfortable picking up his feet a little, he took the bike outside and practiced balancing in the driveway and HE'S STARTING TO GET THE HANG OF IT!! His only frustration is that the bell twirls around when he's in motion. Now he looks like the BIG KIDS and can go out with them to ride without feeling like a "baby."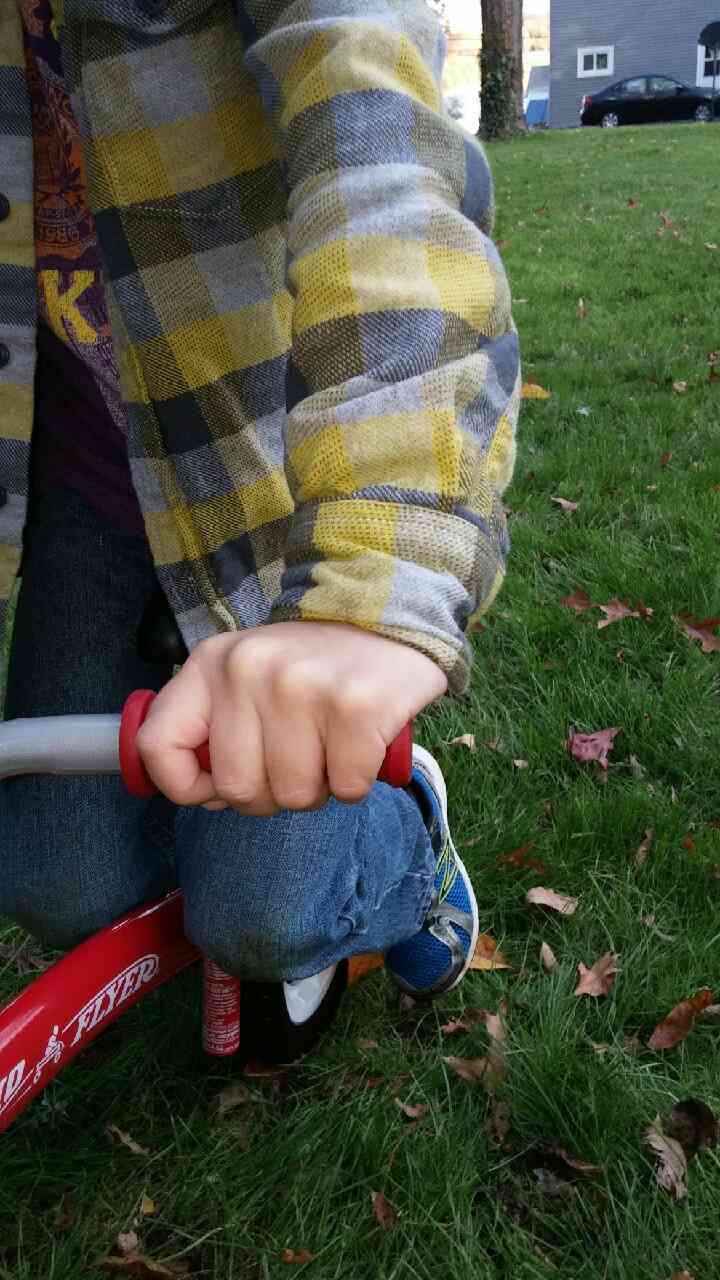 Radio Flyer has been encouraging children across America to 'get out and play' since 1917. We really love the new custom programs that they offer buyers including Build-A-Wagon and Build-A-Trike, which have allowed families like us to add a cool, customizable twist to their classic toys.
With the growing popularity of pedal-free balance bikes, gone are the days of wobbly, frustrating training wheels. The Glide & Go Balance Bike helps eliminate the fear of falling, allowing children to ride with confidence. The latest in the collection of customizable

Radio

Flyer

products, Build-A-Balance Bike allows parents to create the perfect bike for their beginning riders.
The Build-A-Balance Bike program is for riders 2 1/2 to 5 years.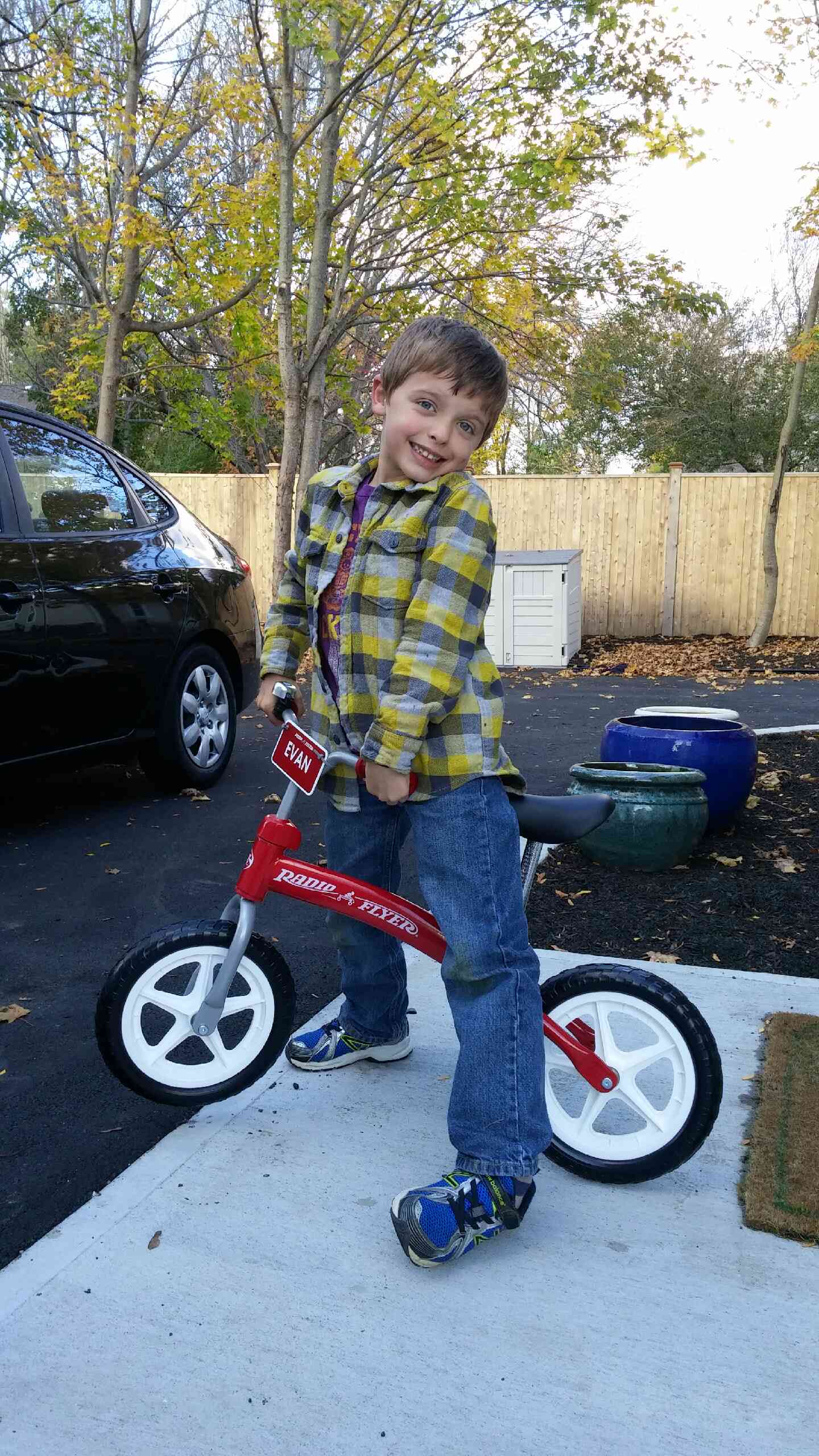 Additional features:
Pedal-free beginner bike (allows child to focus on learning balance)
Adjustable and cushioned seat
Soft touch hand grips
12" tires (rubber air or Duratred)
Sturdy frame
Giftable w/special red envelop packet to create a one-of-a-kind gift
Personalization with unique nameplate
Available only at

RadioFlyer

.com and ranges in price from $59.99 – $109.99 depending on selected features.
CYBER MONDAY SPECIALS!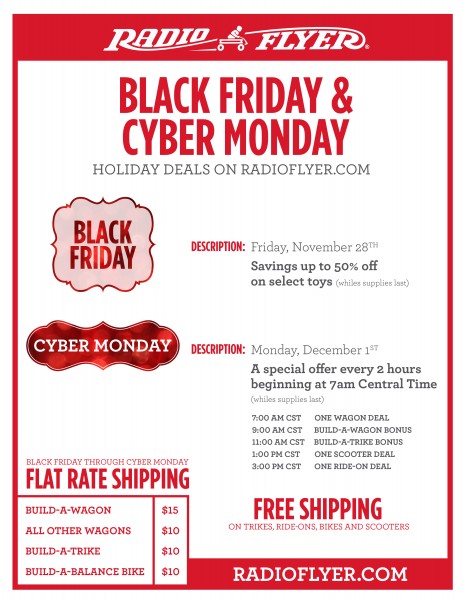 On Cyber Monday, radioflyer.com will feature special offers every two hours, beginning at 7 AM Central Time (while supplies last). During each two hour period, you can log on to radioflyer.com to view the details of each special offer. Below you will find a rough schedule of what each hourly deal will consist of.
7:00 am

… A Wagon Deal

9:00 am

… Build-A-Wagon Bonus
 

11:00 am

… Build-A-Trike Bonus
 

1:00 pm

…A Scooter Deal
 

3:00 pm

… A Ride-on Deal
In addition, Radio Flyer is offering flat rate shipping on Wagons & Custom Products and free shipping on all trikes, ride-ons, bikes and scooters from Black Friday through Cyber Monday.
For more DETAILS