I never believed that cruising was about the food.
The reason?
I'm not certain that before the past year that I'd ever has what I believed was a GOOD meal on board a cruise ship. Perhaps coming from owning and operating award winning restaurants had jaded me, but I've always assumed that if it's from a steam table – it can't be good, and if that kitchen has to pump out dinners for THOUSANDS of guests at a time….well, HELLO MICROWAVE, goodbye creativity. Don't get me wrong, the food is usually edible, but WHO comes home from a week away on a cruise ship having LOST a couple of pounds? I DO (I should cruise more often).
This time I GAINED 3 lbs.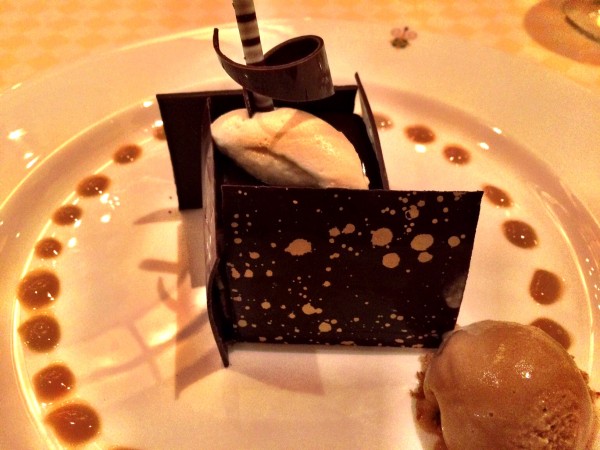 The food on the Regal Princess started off being what I expected, but as I delved deeper into her offerings, it felt like the galley crew had stepped it up a notch and by our final dinner I was CRAVING for more.
Here are my top 10 DO NOT MISS foods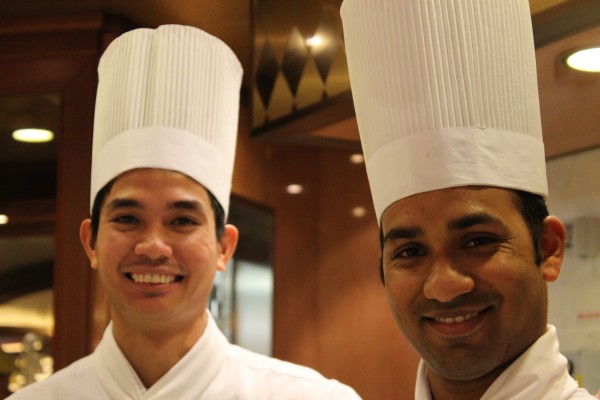 1. PIZZA – The pizza ovens fire up on the Lido deck, bringing that perfectly well done crust to sun worshippers daily. The offerings include the usual Margherita and Pepperoni pizza, and a gourmet variety that changes each day. For those wanting even MORE APizza, slip into Alfredo's on deck 6 just off of the Piazza. BTW, when you see the chef actually HAND SLICE the prosciutto you KNOW it's going to be fabulous. Since I love a good salad alongside a slice for lunch, Alfredo's is a great casual lunch (also offering pasta).
2. BREAKFAST in the dining rooms – The Concerto dining room is the only one of the three major sit-down included restaurants offering breakfast. In the morning I love a little peace and quiet, and rather than stand in line with the crowds at a buffet, I tend to enjoy a more civilized start, as I'm not much of a breakfast lover. That being said, I asked my waiter for yogurt and fresh fruit, and what I got was an AMAZING bowl of delicious yogurt with finely chopped berries that was large enough for a family of four. That and a great croissant made me feel like I had just stepped into a bistro in Paris. I'm not sure that many of the cruisers had figured out that you could have your breakfast served with fresh linen and tuxedo'd waiters, as there were only a handful of us taking part in this luxurious setting.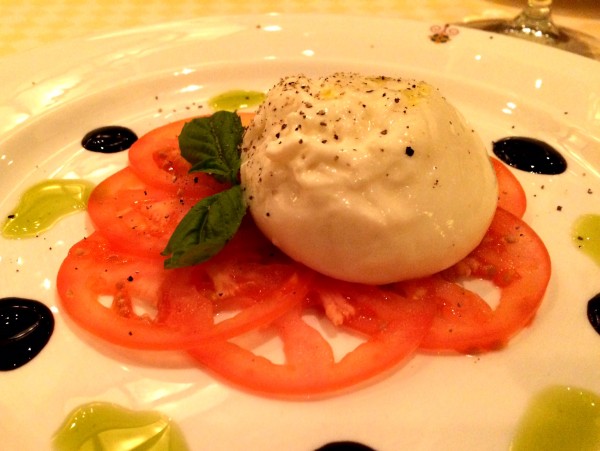 3. That's Italian – I was on a press trip and Sabatini's was one of the restaurants that we explored. Let it  be known that I'll try anything TWICE and I'm glad that I did. Mr. S and I are Princess regulars, and after our initial visit to a Sabatini's we had crossed it off of our list and put it into the "don't bother" category. I'm sorry that I had, as we were one of the first to experience this type of dining, and in the past few years they seem to have ironed out all of the bugs (our first meal there took over 3 hours with slow, tiny tasting portions). While they still begin with a tasting menu of starters, they now offer an Italian menu that will  make a gondolier jump up and down with joy (hold on to the sides). Of course there is pasta (cooked al dente), a burrata that looks like it was hand pulled just moments before serving, and a host of offerings making it difficult to choose.
4. Coffee – I'm a total coffee snob and not having my Starbucks for a week is like torture, so I was happy to see baristas pulling shots at both the International Cafe and in the oversized Pastry Shop that divides the two buffets. Whether it's an Americano or an iced latte,  an after dinner cappuccino or a simple espresso, you can get your fix ANY time of day (the International Cafe is open 24 hours). They're very good about "special" orders (I like my shot pulled long and I got JUST what I had asked for).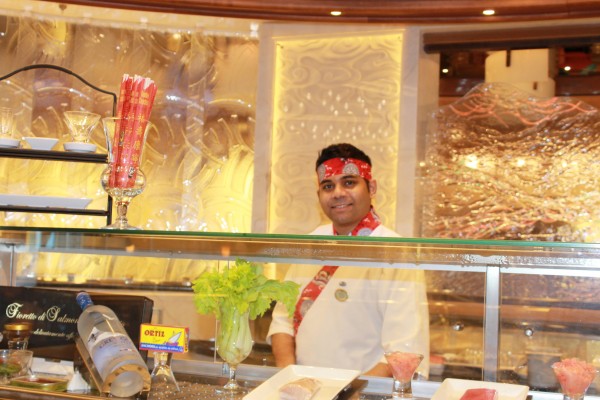 5. Sushi – Thank  you to the Regal Princess for this treat. While the Ocean Terrace Seafood Bar is small (it overlooks the Piazza on deck 7), the tasting plate that I tried was absolutely PERFECT. Don't miss the oyster shooters!! I had to walk around a few times to find an open seat….but, it was WORTH IT!
6. Gelato – Here's where some of the extra weight came to find its way onto my body. I had a coffee card, which includes the gelato. Try walking buy WITHOUT staring at the beautifully colored frozen treats…I DARE YOU. Then again, they have crepes.
7. Wine & Chocolate pairings – What happens when you pair the most sublime chocolate's by Norman Love with exquisite wine? HEAVEN. Talk about an experience you don't want to end. The only thing I needed was a glass of perfect champagne to finish it off (and yes I DID order one as I scarfed up the remaining chocolate on the plate in front of me).
8. Steak done right – If you miss your favorite traditional steak house, fear not. The Crown Grill offers that same experience at sea. Choose your cut from the cart of fresh meat (this is better than watching lobsters in a tank), and marvel at the salt options from around the world to bring out the flavor. Save room for dessert though…you don't want to miss the decadently delicious chocolate journey of the evening.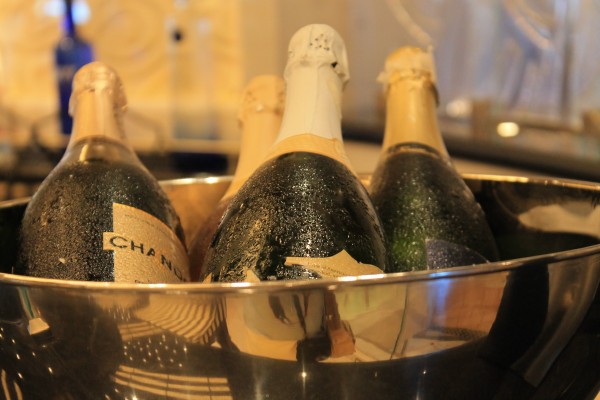 9. Bring on the bubbles – OK, so champagne is not technically food (unless you're me and live for those bubbles tickling your nose and tongue). Bellini's was a MUST STOP each and every night for this gal. Who can resist a bar that SPECIALIZES in champagne drinks and does them with a dash of panache? Not ME.
10. Pub Food – One of the hidden gems is lunch in the WheelhouseBar for a pub style lunch and a pint (food is included, but the beer, etc. is extra). This was yet another nice QUIET option away from the crowds for a casual lunch on deck 7.
EXTRA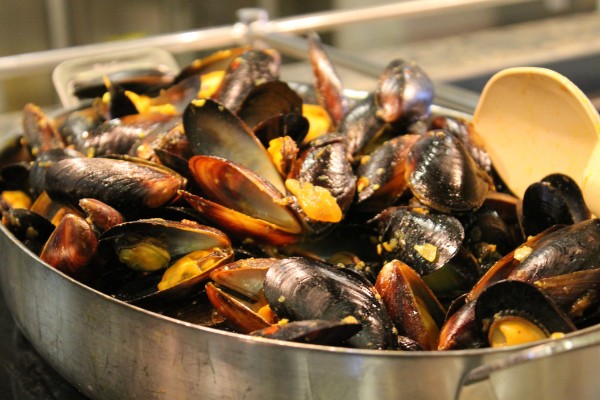 THE BUFFET – Yes, I began by telling you how I'm not much of a buffet lover….til I saw the mountains of crab one day, woks going with some of my favorite fare another, and even a chocolate fountain on a third. Then there's the largest pastry shop that I've ever experienced in a buffet line, smack in the center of the Horizon Court. HINT…if you're going to go sit on deck and watch the movies under the stars…grab some goodies before claiming your deck chair. Then order a great glass of wine from either of the bars on the Lido deck and relax.
In three days there was NO WAY that I could do it all (believe me I tried). Let me know YOUR favorites from the Regal Princess and share them with a little Champagne Living.
DETAILS
To learn more about Regal Princess' or to book your Princess cruise this season, contact your  travel agent, or call 1-800-PRINCESS (1-800-774-6237)
Also by visiting the Princess website at Princess.com
Join me soon as I take you inside the luxurious Lotus Spa. Also coming up is an excursion to Princess Cays and Eleuthera!!