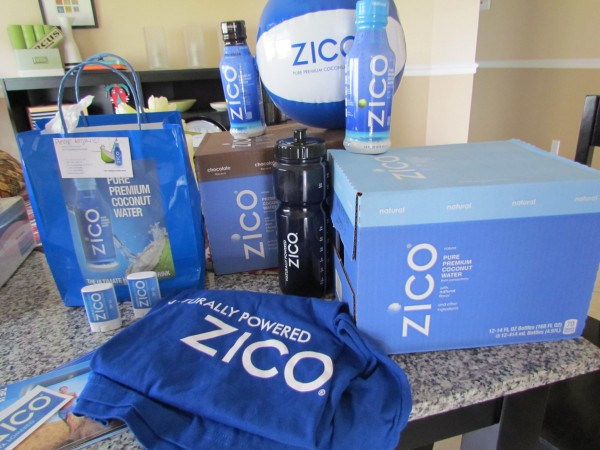 It's 3 weeks into the new year, and so far 2013 is ROCKIN! I've lost 6 lbs, have increased my exercise and am feeling great. To be honest, I'm making small changes. I'm eating SMART, rather than follow a prescribed "diet."
I've also added some exercise to my plan. Lucky Clem is getting fit as we're walking a LOT more. My shopping trips have turned into WALKING trips, as I park as far from the store as I possibly can and walk there & back, and I've added YOGA to my routine (per the doctor's orders).
For more than 4,000 years, coconut water has been revered as a natural source of nutrition, wellness, beauty and hydration. In times of famine and war, coconut water has been used as an intravenous fluid and saved many lives. It's the only natural substance that can be safely injected into the human blood stream. Now modern science has validated its effectiveness, especially as a natural sports drink.
I've also made sure that I hydrate well by drinking Zico Coconut Water, and get the electrolytes that I need because I have a joint disorder from an accident that has left me with a flexion contracture. What all that means is that I'm only able to stand or walk for 20 minutes at a time, and I'm in horrific pain if I push beyond that. The best way to deal with it is to make sure that I get enough potassium and magnesium, so those Charlie Horses don't wake me up screaming in the middle of the night.
ZICO contains the five electrolytes that support your body with what it needs to stay hydrated and perform at your best. One  ZICO has more potassium than a banana – 15 times more than most sports drinks – to prevent cramping. Drink ZICO before or during a workout for the natural energy you need for optimal performance. After a workout, ZICO replenishes and re-hydrates you to aide recovery.
Check out Zico Coconut Water in both chocolate and the natural flavor at your grocery store.
I received product to facilitate this review. All opinions are strictly my own.