We all want to change the world…. (sincerest apologies to Lennon & McCartney – I am most certainly going to hell for this one).
Truthfully, I'm happy just making a few changes to my life. 
And, while me flossing my teeth won't change the world, it may make a difference in my level of panic at the dentist's office.
My fear of the dentist started when I was young
No matter how many times a day I'd brush my teeth, I always got yelled at for all of the plaque and tartar build-up when I'd visit the dentist or hygenist. I swear, if I could sell the stuff, I'd be up there with Bill Gates or Elon Musk. Then there was that SCRAPING SOUND of the hygenist attempting to get it all off and the BLEEDING for weeks after my visit.
The only good thing is
My teeth feel SO clean after my visit. I wish that I could recreate that feeling at home.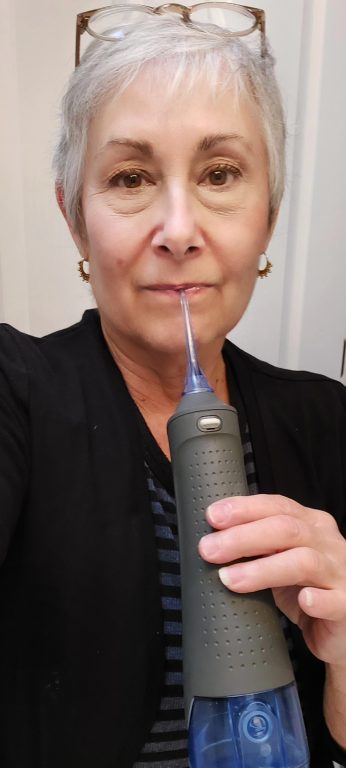 My at-home ritual
Brush and floss
Brush and floss
Brush and floss
I do it at LEAST 3 times a day, yet my gumline and between my teeth NEVER FEEL CLEAN. Maybe I'm not doing it right, or maybe it's the fact that my bottom teeth are so crowded (I wish I'd had braces as a kid) that the floss gets stuck between my teeth, and again, I'm bleeding. Then there are those crowns that I worry about dislodging with the floss.
Even at 67, I feel the fear. But, I've found a secret that has helped me to lessen that fear (no it's not Xanax).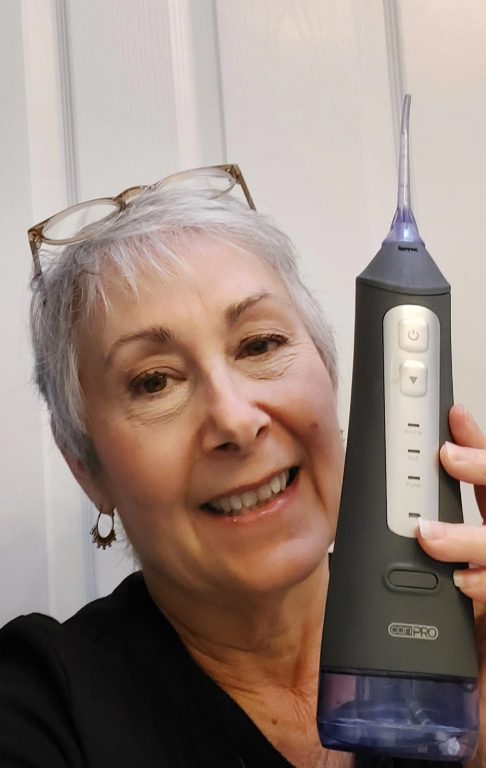 The cariPRO Cordless Water Flosser
I use a cariPRO electric toothbrush by Smile Brilliant daily (I even take it with me when I travel). That was the first step I took to getting my teeth ready to face my fears of the dentist. But, with the cariPRO Cordless Water Flosser by Smile Brilliant I've stepped up my game!
At under $100, this portable (YES, I PACK IT RIGHT IN MY SUITCASE WHEN I TRAVEL) water flosser is an absolute game-changer. Not only does it remove up to 99/0% of plaque from the treated areas (no plaque/no tartar/no shaking at the dentist), but it's up to 50% more effective for improving gum health than string floss. It's great for those with braces (much more effective than using the orthodontic tip), and if you have bridges, veneers, or like me – crowns, you don't have to worry about dislodging any of them.
Best of all, unlike the others that can take a BIG BITE (sic) out of your wallet, it's priced at under $100.
I wasn't kidding when I said that it is travel-friendly.
The cariPRO Cordless Water Flosser by Smile Brilliant is an all-in-one unit with a charging cord. The flosser has a large reservoir that allows for 45 seconds of flosser per fill and lasts about 28 days on a full charge (so, I never have to pack the cord when I travel). When I do have to charge it, I just plug it in overnight, as it charges completely via universal USB and wall charging in 5 hours.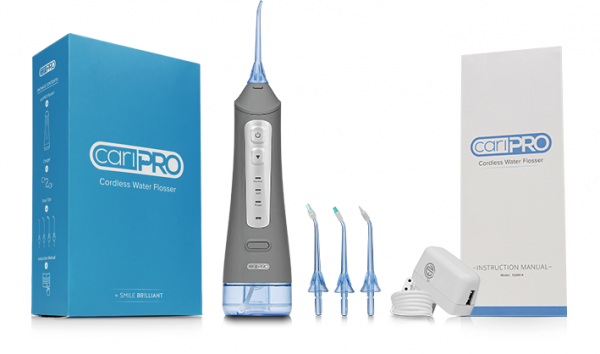 The details
44-75 psi floss jet
3 floss modes (normal, soft, pulse)
Ergonomic slim design with graphite gray soft-touch grip
Waterproof design is is safe for shower or bath
Auto-interval smart timer for even & timed brushing
2 year warranty
It comes with 4 Premium Floss Tips
Standard tip (general use)
Ortho tip – Ideal for braces
Brush tip – Implants, crowns, and bridges
Pocket tip – periodontal pockets / furcations
Best of all, you can try it out to see if you like it with their 60-day trial.
Have a fear of the dentist because of plaque build-up like I do? I suggest trying the cariPRO Cordless Water Flosser by Smile Brilliant you may actually look forward to your dental appointments.
Pick one up on SmileBrilliant.com
Right now they're only $98!
This post has been sponsored by Smile Brilliant. All opinions are strictly my own.