I hate going to the dentist. Don't get me wrong, I love him as a person…as long as he's not putting sharp instruments into my mouth. I can be a big mouth when I'm talking, but I having a small jaw, it hurts me when he's working on my teeth. Because of this, I try to do everything that I can to avoid having to go beyond my regular checkups and hygienist visits. The only way that I know to do this is to brush well and floss often. My dental hygienist has been trying for the longest time to get me to switch from my manual to an electric toothbrush. I did – and I HATED IT. When Smile Brilliant approached me to review their cariPRO Ultrasonic Electric Toothbrush I figured it was my way to show her that I was going to give electric a try again.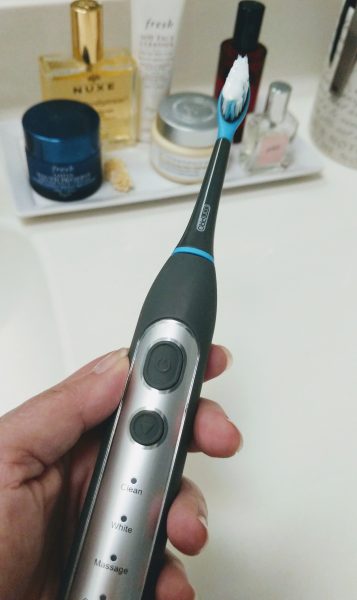 I received this toothbrush to review
I honestly thought that I'd go through the review process and pack it away under my vanity like I had so many times before. I would get brownie points from the dental office (they all read Champagne Living), then go back to my old ways.
The problem was
This didn't happen. It turns out that one of the reasons I gave up on all of my previous electric toothbrushes is that SOME of my teeth are sensitive, while others are perfectly fine. I've had extensive dental work in the back of my mouth. I have gaps in two areas that can't handle a lot of pressure, cold, or overbrushing. If I want to whiten my teeth, I can't let anything strong get on my back teeth or I will hurt for DAYS. But, the cariPRO by Smile Brilliant  is VERY DIFFERENT than my other experiences.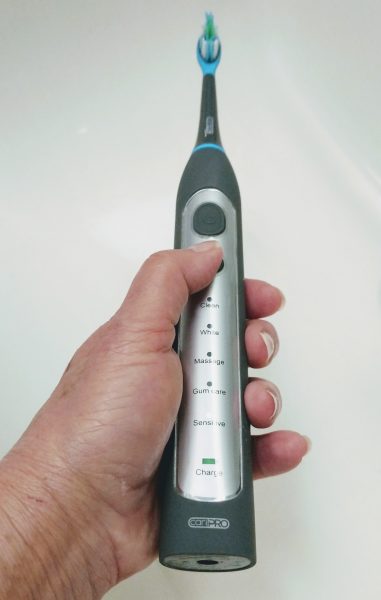 The Settings
For ME, the ability to both be able to brush my front teeth AND my sensitive back ones with the same toothbrush was something that I had been missing, and it's the reason that the cariPRO Ultrasonic Electric Toothbrush by Smile Brilliant has been my GO-TO for keeping my teeth their cleanest and healthiest. With 5 distinct settings, I can control the power with the touch of a button AS I'M BRUSHING!
Clean – Standard mode for superior daily cleaning

White – The most powerful cleaning mode. It's great for removing surface stains, polishing and vigorous deep cleaning.

Gum Care – Gum mode for gentle cleaning along the gumline. I follow up by flossing!

Massage – Gentle gum pulsation mode for gum stimulation. For complete coverage, use with another cleaning mode

Sensitive – Ideal for users like me, who find the default clean mode to be slightly too aggressive. This gentle cleaning mode is tuned well for those who have sensitive gums and teeth.
It's like having a personal hygienist
Well, without all of the questions or reprimanding that I usually get (why do they always ask you questions when they've got their hands in your mouth and drool is falling to your chin).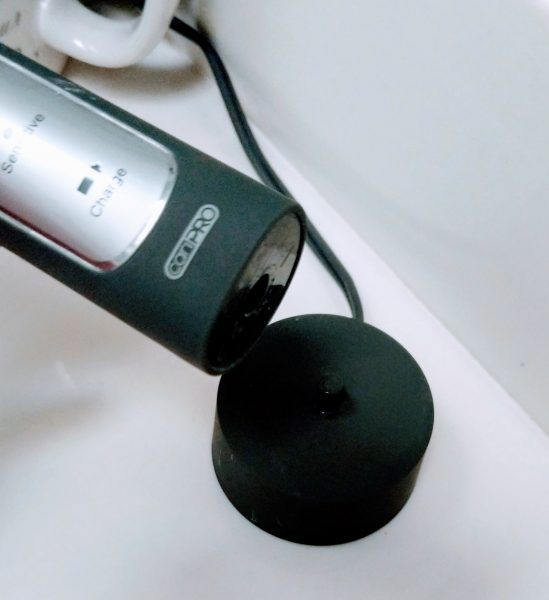 My cariPRO Ultrasonic
Removes up to 7-times more plaque than a manual toothbrush – the plaque factory has been shut down!

It improves your gum health in as little as 2 weeks

Your teeth get twice as white as they were after using it for just ONE SINGLE WEEK

It's compact, simple to use and waterproof and I can easily pack it when I travel.
Lead with your smile
They say that the first thing a person notices about you is your smile. If that's the case, why not mesmerize them with every hello and #smilefearlessly.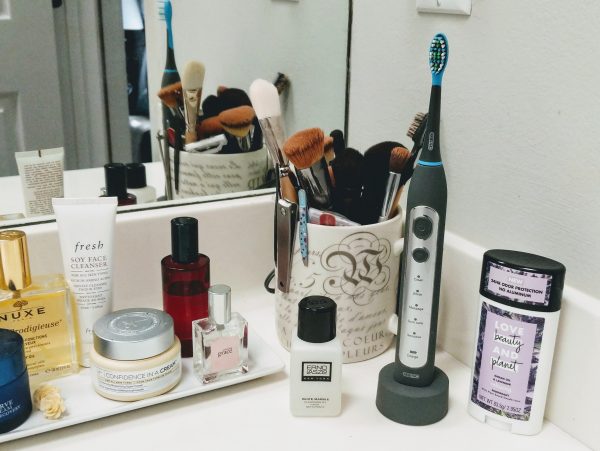 Champagne Living readers get 20% off
As if a GREAT electric toothbrush starting at $119 wasn't great enough, we are offering our readers 20% off the cariPRO Ultrasonic electric toothbrushes when they use code:  champagneliving20 at checkout.
Enter to win one!
electric toothbrush reviews
Or head to: https://www.smilebrilliant.com/gb/champagneliving to enter today!

Visit

Smile Brilliant

to learn more

Already have a cariPRO Ultrasonic electric toothbrush? Pick up

extra heads

for it!

Buy one today and get 20% off with code:

champagneliving20

Remember to always

#smilefearlessly