I've been lucky enough to be included in this years #WindowsChampions program. So far, I've been outfitted with a brand new Lenovo Yoga with Windows 8, touch screen, and a computer that can go from laptop, to tablet to presenter in less than a second.
The problem is, that although I have Windows 8 on my desktop PC, I've never REALLY gotten use to it. Oh, I can go back and forth between the Windows App page and the desktop version easily, but for anything else, I've had to really think about it.
While I' ve gotten used to BOTH of these, my comfort level is still HIGHER with the desktop. For those of you just getting used to Windows 8 and need that desktop to pop up when you sign on, it's an easy switch. As a matter of fact there are a LOT of switches that are as easy as A-B-C.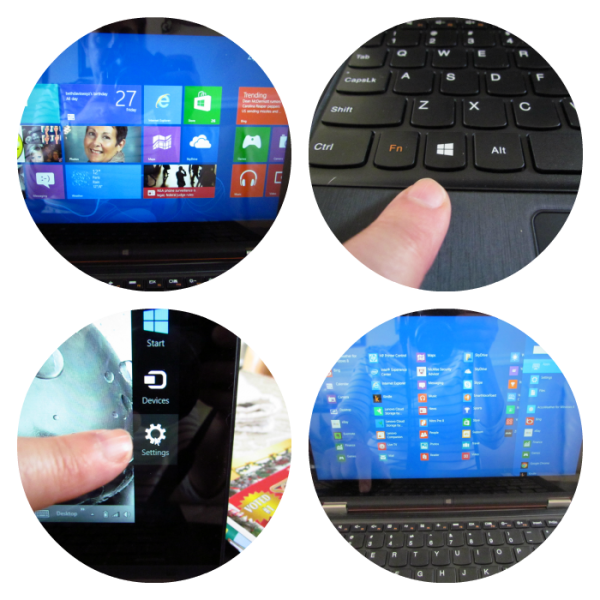 Here are a few of my VERY favorites
Click on the Windows Icon and the letter:
D: To switch to your desktop from ANY screen
Q: for ALL of your apps in one place
S: to go to  your settings
F: to find the files that I've stored
Enter: to get to the narrator (if you haven't used this feature, it's GREAT)
I'll have more Windows 8 tricks for you as I learn them. I'm loving this little powerhouse of a computer, and am looking forward to all of the cool things that I'll be able to do with it that my older computer can't.
If Santa "forgot" your new laptop, phone, or other Windows 8 device, Microsoft is having a GREAT after Christmas sale! Check out Microsoft.com for deals up to $600 OFF!
Buy an AT&T Nokia Lumia 1520 for $99* (*2 year New or Qualifying Upgrade Contract required)
Buy a Samsung Book 9 Plus, Sony Pro 13 or an Asus UX31 and get a $200 Microsoft Store Gift Card
Thank you to the #WindowsChampions program for providing me with a new Lenovo Yoga to learn more about Windows 8. All opinions are strictly my own.