It's finally happened, I fell in love with a car. The 2014 Mazda 6 iTouring sedan, has captured my heart (and my lead foot).
I tend to be hypercritical when I review a car. I grew up in the wholesale automobile business, my grandfather was a car dealer, my dad was a wholesale dealer and I worked in the business from about the age of 13. When I married my husband he had a fascination with cars, so when he sold his restaurants in Providence and Newport, he naturally went into the wholesale automobile business as well. I've done everything from deliver cars, to doing the books, to being the title girl. I've washed cars on the lot when I was a kid, and eventually ran my husband's wholesale business while he was on the road buying.
Does this mean I know about cars?
Not exactly. I know what I like. I know what I want in a car (and don't want) and I know how it should handle and what it should sound like. So, yes I tend to know what I love, and if a car is lacking, made cheaply, or I feel it's a poor value based on workmanship – I SAY IT.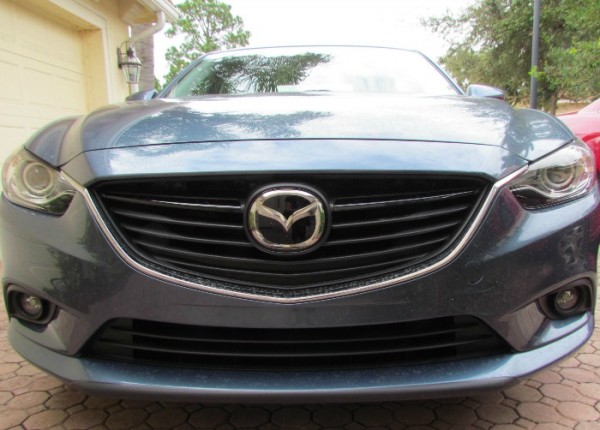 The Mazda 6 iTouring sedan
THIS my friends, is one of those cars that I would BUY. With its European styling, this car reminded me of one of those German autos that I thought I missed driving.
Mr. S insisted that I look at the new Mercedes CLA as an "around town" car, but when I compared it side by side with this Mazda 6, the Mazda won HANDS DOWN. For a few less dollars you get a CAR LOAD of features that the "other" car just doesn't have.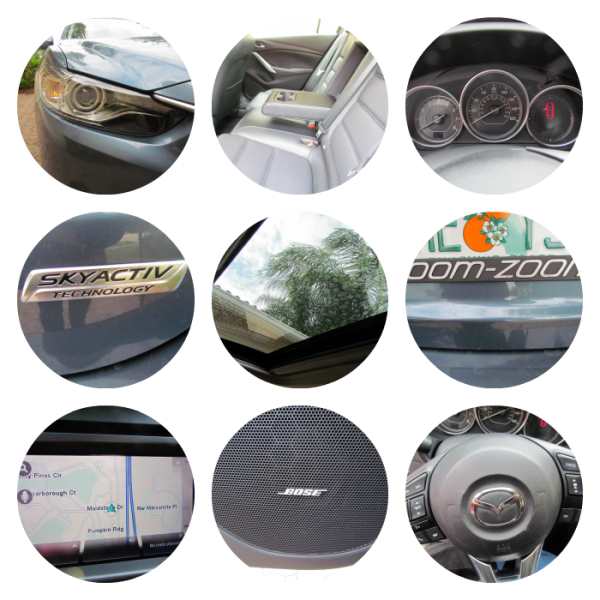 The Highs
The European styling – both inside and out. The lines are sexy, and the color that I drove was classic (although if I bought one I'd probably pick it up in white).
Pandora & HD radio – it's about time. I'd rather listen to Pandora radio than satellite ANY day of the week. Of course if you prefer satellite, you've got it.
Gas mileage – this is NOT an economy car so when I see a car this size getting around 29 mpg I do the happy dance. I know it's due to the 4-cylinder engine and that SkyActive technology.
Auto on/off headlights – I tend to forget to turn them on & off, so this is a feature I can't live without.
Fun to drive. This car grabs the road and holds on for dear life. It corners well, revs up quickly, and gives you a real sense of power. I found the steering to be VERY responsive.
Keyless entry & push button start – I'm spoiled and have gotten used to these – what can I say?
BOSE!!! – Lord help the person who pulls up next to me at the stop light. These speakers were meant to sing along with.
Integration  – I usually have a bit of difficulty with my phone/bluetooth/system integration, and I'd heard from others that they has an issue with this feature. I found it easy, which is saying a lot, because as you all know – tech savvy I'm not.
This car is SEXY inside and out.
The lows
The dash was a little ordinary looking – I expected to see a bit more pizzazz in front of me.
The top-stitching on the seats – yes, I love top-stitching, but it would have been fun if they has coordinated the color with the car's exterior.
Overall
This is the ONE car that I test drove this year that I'd BUY. The Mazda 6 gets a big CHEERS from Champagne Living!
Thank you Mazda
The Gin Joint would love to thank the sleek Mazda 6 for a good ole country time with Keith Urban.  Great eats and great drinks and a great night out with some amazing friends.  We partied all night with some great people on the Mazda Pavilion at the Cruzan Ampitheater in true Gin Joint fashion as guests of Mazda.

Details
Prices starting at around $25,000