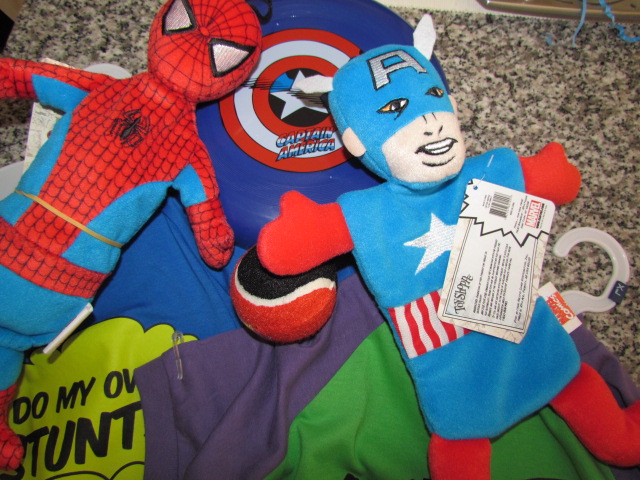 Mr. S makes fun of me because I tell him what the dog is thinking. Um, yes – I'm a doggie psychic…at least I think I am. Those of you who have pets that you love know what I'm talking about. It's like when you have an infant who can't speak yet, but you know what every cry, look or movement means…that's how I am with Clem (Clemenza – my mini bull-terrier).  You get to know by a look just what your dog, car, bird or lizard wants, needs and even thinks.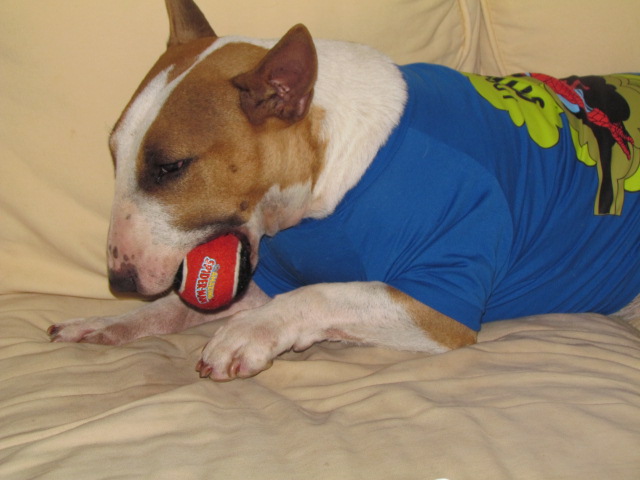 While we (Ben, Mr. S and I) get to go play golf, watch movies, etc. – poor Clem just sits with us, appreciating the time spent together. Every now and then I get the "WHAT ABOUT ME?" look. Fortunately, I know a place that will cure the doggie "What about me's?"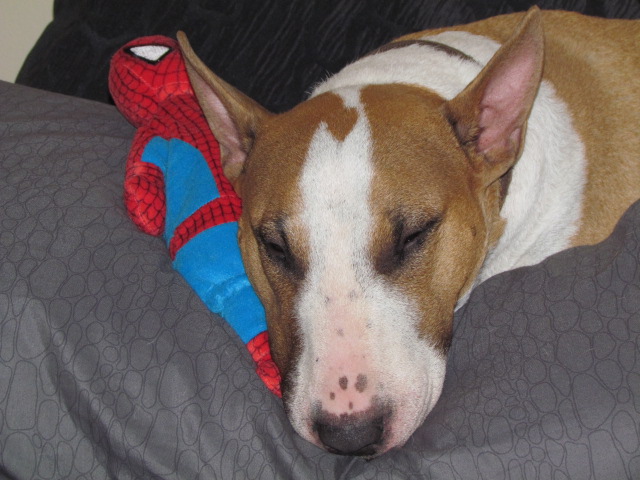 PETSMART!!! Just the name gets Clem's Spidey Senses tingling. Yes, even a mini-bullie wants to be a Super Hero – at least in our eyes, which is why Petsmart has teamed up with Marvel Comics to produce a line of 41 toys and dog-wear that will have your pooch "super-power their play time."  For those dogs who aren't clothing types, there are even bandannas to tie around the neck .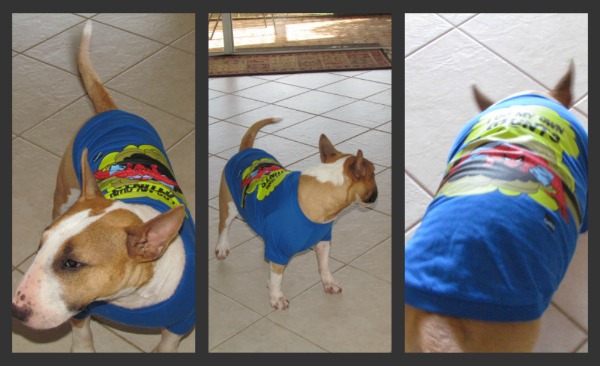 Clem has a collection of shirts, a Marvel Captain America Frisbee, a Marvel tennis ball and two toys that he's currently obsessed with.
Spiderman Toy Bottle Stuffer – I LOVE this idea. It's Marvel's Spiderman with a plastic bottle stuffed inside. Chewing on it makes a crinkly noise that Clem LOVES and if the bottle flattens out, I simply replace it with another water bottle. It's recyling at it's best and a toy that will NEVER stop amusing.
Captain America Flat Toy with Crinkle – I still can't figure what's inside or why he'd want to play with a toy that's flat, but once again it makes a DIFFERENT type of crinkly noise that amuses him for HOURS.
Check it out – I get my Super-Hero dog dressed up for some Super-play and he LOVES it (bull-terriers love to get dressed up). These are  in your Petsmart for a very limited time, so HURRY and get them. The price points are extremely good – ranging from under $3.00 up to under $15 (although I saw that the entire line was on sale this week, so it may be even less).
Clem wants me to thank Petsmart and Marvel for sending these items to review. He also wants you to know that his opinions are his own.