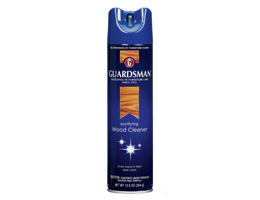 Because I was away for most of last week in San Francisco, this weekend turned out to be somewhat harried. I only had Ben over, but I we were planning a large family dinner. Add to that the fact the I'D BEEN AWAY for almost a week and you can imagine what the mansion looked like. Yes – there were dishes in the sink, yes – the glass stove top was covered with drippings, yes – the floor looked like someone stepped in mud in bare feet and trekked across the white tile and no – no one had any idea where the coasters were.
MomCentral had sent me a can of Guardsman purifying Wood Cleaner and frankly I grabbed it because it was sitting on the counter and I didn't have to go looking for my usual furniture polish. I was going to review it later in the week, but because it was within reach it was put to a REAL test. Ben and Mr.  S would be here in a half an hour, there was no time to waste.
I have to NOTE that a couple of pieces of my furniture are in VERY bad condition. Some of it has made the move four times in the past six years. It's put up with puppy scratching, men who have no idea what a coaster is, and general misuse. I have two favorite pieces. One is my black cocktail table and the other is an antique gate leg table that my mother had found and refinished back in the 60's. I remember being in the garage helping her. Let's just say that since I've acquired it that it's seen better days.

I grabbed a rag and sprayed the Guardsman Wood Cleaner on it and instead of a light spray, I got a mound of FOAM (totally unexpected). Wiping with the grain of my furniture, I saw an immediate improvement. Both tables not only shined from one application, but the grime and water marks left by living with a couple of sloppy guys and a mini bull terrier lifted without scrubbing or refinishing. It got so shiny that I could see my reflection (and this is a painted piece).
It gently and effectively removes dirt, grime, fingerprints, food and beverage stains and oily films.
Wipes away dull surface buildup left by some wood and furniture polishes.
Use prior to first-time use of Guardsman® polish to enhance luster. Use more frequently on surfaces susceptible to heavy soiling, such as kitchen tables, cabinets, drawer fronts, railings and banisters.
My next reaction was to pull up the Guardsman website and find out where I can buy more of this locally (my nearest retailer is Bed Bath and Beyond).
Then I learned that they also make LEATHER CLEANER! I have a gorgeous Natuzzi chair that the dog has made his own. It's still beautiful, but it's in dire need of some TLC, so I'm heading out to BB&B this afternoon to get some of that as well as other products in the Guardsman line…because the mansion is getting a new beauty routine (perfect for Spring cleaning and spruce-ups). Now it's all about caring for my furniture and not just cleaning it.
Would YOU like to Stop Cleaning and Start Caring for YOUR HOME as well?
• Guardsman is teaming up with TV design star Tracy Hutson to launch its "Stop Cleaning. Start Caring™" to help educate furniture owners on techniques that will bring out your furniture's inner beauty.
• They're going to show a whole new generation of furniture and home enthusiasts how to love and protect their furniture by demonstrating that furniture has its own beauty routine.
Remember you take care of the things you love, and your furniture should be no exception. Whether it be modern or antique, we all have furniture we love and caring for it will help it last longer.
Furniture should be cared for in the same way we take care of ourselves. It's more than dusting and polishing, it's about nourishing, revitalizing and bringing out furniture's inner beauty.
Guardsman wants to unlock the secret experts and homeowners have shared for more than a century. The simple furniture beauty routine includes: cleansing, polishing and, of course, covering those tiny imperfections.
The secret to beautiful furniture is simple… "Stop Cleaning. Start Caring™"
Here's what you can do
Go to Guardsman.com to share a story about your favorite piece of furniture and make a promise to care for it in the same way you care for other things you love.
From the stories shared, Hutson will select one lucky winner with the best furniture story to receive a personal design session in their home that includes a $1,500 room re-accessorizing and shopping experience along with a suite of Guardsman products.
Tracy will choose the winner with the best furniture story.
Go to Guardsman.com to enter and view official rules.
They'll be $25,000 to Habitat for Humanity to help build simple and affordable homes in partnership with low-income families, because we believe that building and rehabbing homes does more than put a roof over someone's head. No matter where one might be in life or what new chapter they're starting, a home provides individuals and families with stability, safety, and of course, lots of pride.
I wrote this review while participating in a blog tour campaign by Mom Central Consulting on behalf of Guardsman and received a Guardsman product and a promotional item to thank me for taking the time to participate