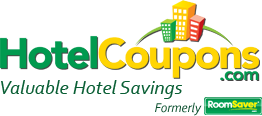 Mr. S prefers road trips, while I'm just the opposite, but with marriage there has to be compromise. When I travel alone (which is quite often), I take advantage of not driving, but when we travel from Florida to New England even I like to be on the familiar road, stopping at my favorite restaurants, stores and hotels along the way.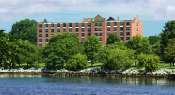 As long as I can remember we've stopped at Welcome Centers to pick up those books of hotel coupons before deciding which exit we'd take and where we'd stay based upon how far we've driven that day. We also try to get to cities where we adore staying and have been known to pull in hours and hours early just to stay at our favorites.
All this sounds great, except when the argument in the car ensues when we're starting to get close and we haven't yet stopped to pick up our guide, which is why when my bestie Lee went to work for HotelCoupons.com, I let out a sigh and a "yippee" because I know that I'd be working with a company that I've already been using for many years.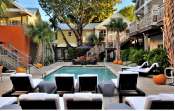 While HotelCoupons is well known for their hotels that are scattered along highway exits, for weary travelers…I've used them for staying in Key West, Manhattan, and even back "home" in Providence and Cape Cod.  I hear that they're even trying to put vacation packages together for popular spots like Orlando and Las Vegas.
The app is extremely easy to use, you simply type in the state or city that you'll be stopping in, and a host of surrounding hotels in price ranges that will have you thinking there's going to be plenty left over to stop at the outlet mall next door (just thinking about Darien, GA or St. Augustine, FL).
To let you know about their great hotel savings coupons, HotelCoupons.com has generously put together this Rafflecopter $200 American Express Gift Card sweepstakes. Hmmm…I'm thinking that's enough for 2 or 3 nights on the road using their coupons. Where would I go?
Hurry and enter, because this sweepstakes is only live for ONE week!
I am participating with Travel Media Group as a sponsor of the sweepstakes, but have not been paid for their participation. All opinions are my own.