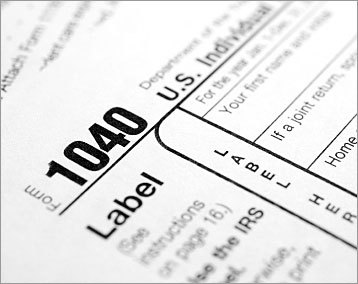 Once again, our friend Andrea Woroch the consumer and money-saving expert for Kinoli Inc, makes an appearance here on Champagne Living. Today she's here to help us wade through our yearly paperwork for the government, and hopefully make all of those numbered sheets flow a lot easier (and with a lot less stress).
 It's tax time again and, just like last year, Uncle Sam is offering a bit of relief in the form of two extra days for filing. While this news may encourage you to put off tax prep, it's essential to get your information submitted as soon as possible. After all, the sooner you submit, the quicker you get a refund, or the more time you have to save up if you owe.
Preparation is key to any task and absolutely essential when completing your taxes. Before you commit your weekend to pouring over government vernacular, consider these seven tips to stay on track.
1. Identify Deductions
Before you start number crunching, be sure you know what expenses to write off; you don't want to miss out on a single tax-deductable expense. The list is quite long, so take the time to read it thoroughly and highlight anything that applies to you. You can find the Top 500 Itemized Deductions on the IRS website.
2. Organize, Organize, Organize
Now that you know what to deduct, it's time to organize the information. You've filed tax-related documents in a single file all year – that's as organized as you need to be, right? Wrong. If your receipts are a hodgepodge of charitable donations, business lunches and vehicle records, take the time to separate them out. This will save you a lot of headache come input time.
3. Keep Track of W2s
By law, employers must submit W2s to employees by Jan. 31 of each year. If you failed to receive yours or can't seem to locate it, contact your HR department or supervisor. File it immediately when you receive it.
4. Find Discounts for Software
Preparing taxes at home is much cheaper than working with a professional, but that doesn't mean you should pay full price. Look for tax coupons from websites like CouponSherpa.com and save on software packages to make your tax prep even more affordable.
5. Save on Professional Help
Taxes are never straightforward, but business owners and people with multiple real estate properties are much less likely to be audited when they work with a tax professional. If you work with a chain agency like H&R Block, be on the lookout for deals and discounts; they run rampant this time of year.
6. Analyze Your Refund
It's tough to compete with the glee of receiving a hefty tax return, but not owing anything to the IRS is the sweetest gift of all. If your withholdings are too high, you're missing out on monthly income. If they're too low, you're living the high life until an abrupt wake-up call on April 15. Ultimately, you want to break even with Uncle Sam, so use the IRS Withholding Calculator to determine the optimal deduction from your paycheck.
7. Spend Refunds Wisely
It's tempting to treat yourself when you get a refund, but the biggest treat of all is financial security. Thankfully, 43.8 percent of Americans intend to stash away expected refunds this year, up from 42.1 percent in 2011, according to the National Retail Federation's Tax Returns Consumer Survey. Paying down debt, donating to a charity, and adding to emergency savings are all wise ways to spend your refund.
Andrea Woroch is a consumer and money-saving expert for Kinoli Inc. As a nationally recognized media source, Andrea has been featured among top news outlets such as Good Morning America, NBC's Today, MSNBC, New York Times, Kiplinger Personal Finance, CNNMoney and many more.