I participated in a campaign on behalf of Mom Central Consulting (#MC) for Sprint. I received a product sample to facilitate my review and to thank me for participating.
"Where words leave off, music begins."  
– Heinrich Heine
Finding a quote that really gets to the core of how I feel about how music can transform a bad day into a perfectly wonderful one wasn't as easy as I thought it might be. Then again music…those few notes and scales meshed together with poetry does something to our entire being. Music can bring up emotions that we've forgotten about, and allow us to lose ourselves in the moment. It can make a toddler dance and an old woman dance cry.
On a personal note, music is one of the most important things in my life. I spent my youth dancing, my college years dancing and my early career dancing. My background was in dance therapy, and I learned quickly that it was the sound when it hits the ears that made my patients want to be joyous and move.
I am not and will never be complete without the sounds of music filling the mansion and my life.

While I'm one who has become attached to my mobile phone, using it for more than a conversation and a quick text is what makes me choose which phone I use. My phone HAS to have the ability to bring me more. It has to bring me MUSIC, and not just the tinny sound that reminds me of transistor radios of days past.
I'd recently been sent the Harman/Kardon Edition of Sprint's HTC One, and I gave it a GOOD workout….or should I say, I gave myself a good workout, dancing and listening. Here's what I found….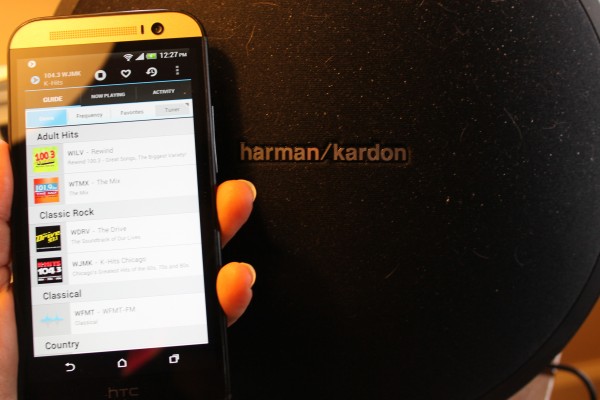 Sleek Design – As I age I need a phone that fits easily into my hand without a lot of thickness. I need a screen that's large enough for me to see, without having to dig out a pair of reading glasses. With it's 5″ screen offering 1080p full HD visuals, the M8 is easy to see AND easy to use.
Harman/Kardon – I grew up on Harman/Kardon speakers. They were and still are some of the BEST available sound systems you can buy. The HTC One offers superior sound quality, and when paired with a Harman/Kardon speaker (like the wireless speaker you see in the photo above), it is TRULY all that you need to fill your mansion (or picnic, or beach) with the joy of sound.
Harman/Kardon offers patented Clari-Fi™ technology, which analyzes digital audio files in real time and restores what was lost in compression.
Android 4.4 Kit Kat – While the first Android offerings always seemed  much slower to me, this new version has picked up speed and is much more touch responsive than other versions that I've used.
Voice Quality – Yes, I DO still have to make and receive calls every now and then, and the HD Voice means no sounding like you're talking through a tunnel.
Sprint Spark – I've been a Sprint customer for over 15 years, and this is the FIRST phone that I've had that uses this new technology. The ability to access all three of Sprint's LTE systems means no more dropped calls, not crackling when I'm in the depths of a concrete building, and just all-around better reception.
Of course, it's Sprint, so you can access Spotify Premium, download music and use NextRadio!!! I love being able to switch things up and listen to music that I KNOW and experience NEW SOUNDS as well. That way, I get to dance to the different beats, sing off key (even when I'm NOT in the shower), and enjoy every note along the way.
When the music changes, so does the dance. – African Proverb
For more details on the new HTC One go to:
….and if you've got a favorite song that you think I should check out. Feel free to leave it in the comments.