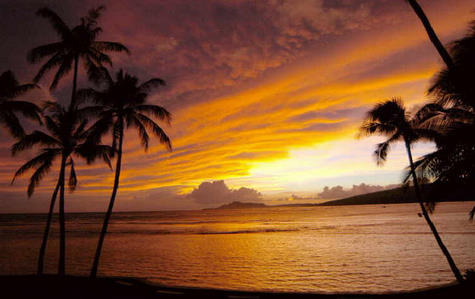 My bucket list consists primarily of TRAVEL. I'm not an adventurer, I don't want to base jump or care about learning to fly. NOPE, there are just places I'd love to visit LIVE for a while, food that I'd like to dine on, and get to know some of the locals. Some of the places I've already been to and want to revisit, and others are ripe for checking off as I continue my travels. While I tend to travel outside of the US more than I do IN our 50 states, there is ONE spot that has been on  my bucket list for a long, long time.
HAWAII
My mother's favorite place in the world was Maui. She and my dad spent time vacationing in quite a few of the islands, but it's one of those places that just seem so FAR. So much so that I've never been. I remember my mother telling me stories about the beauty of the islands, how kind and polite everyone she met there was, and more. Even my father, who did NOT like to travel THAT far (he much preferred road trips) fell in love with the Hawaiian Islands.
Of course, I've been researching. While I'm always ready to go at the drop of a hat, when I have no travel planned, I tend to do my armchair traveling. I look into neighborhoods that I'd love to visit, restaurants, beaches, nightclubs and all of the touristy things that go along with visiting a new locale. Having to fly across the continental US, before taking off for the islands is a L-O-N-G adventure, and because there are no direct flights it would take me almost double the amount of time that it does for my yearly Paris trip (15 hours vs. 8 hrs). Flights from South Florida to Honolulu tend to be the same price as they are from here to Europe. EXPENSIVE
So, I know that after spending ALL of that money, the hotel I stay it will be EXTREMELY important (hence my research). The more that I research, the more  Aqua Resorts pops up on my radar. They look absolutely lovely, with modern decorated rooms, located in the PERFECT spots from Oahu to Molokai, and Maui to Kauai. The prices are reasonable (much more so than if I took a European vacation), and if you're a RESIDENT they have dirt cheap specials. Members of the military also get GREAT discounted rates, and they'll even put packages together for you if you're interested in bundling airfare with your stay.
I just need to figure out WHEN I want to go.
Since I've never been, and I'm just beginning my research, I'd LOVE to know exactly WHERE I should visit and what I should do there. I know that there are Champagne Living readers living in the islands, and would love some direction from them or ANY of you who have been.