Eat Fat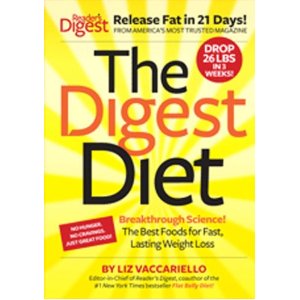 Enjoy Chocolate
Forget long cardio sessions
Check out that new comedian
Relax with a glass of wine
Doesn't sound like a diet to me…but, it IS. Coming to bookstores SOON, The Digest Diet seems to have found all of the little tricks for eating foods that provide a quick way to lose those pounds and keep them off, without feeling deprived, without cravings and with REALLY enjoying life. Sounds like a Champagne Living style diet to me.
The MOST interesting part is that The Digest Diet comes from the Editor-in-Chief of Reader's Digest. I have to tell you that before I even took a look at this book, I had reservations. READER'S DIGEST? I'm thinking old and frumpy, but this weight loss program is ANYTHING BUT. Author Liz Vaccariello has done her research and put all of her weight loss tricks and tips together between the pages of this ONE book.
The Digest Diet is a complete 21-Day Fat Release plan backed by science that teaches us how to identify "fat releasers" and "fat increasers." Liz Vaccariello expertly analyzes and condenses decades of research and science to reveal the simple truth about fast and lasting weight loss.
What I LOVE….
1. Recipes – this book not only outlines what you should do, but Liz has created some incredible recipes that help you stick with the plan without feeling like you're dieting.  Recipes like Shrimp Scampi with Cherry Tomatoes & Basil, and Fudgy Mocha Brownies will not only make you feel like you're indulging while losing, but you're significant other and family will LOVE these as well.
2. Fat Releasers – Get rid of that fat by hiiting, laughing, snacking, and loving it off. Stress makes us eat more and makes it much more difficult to lose weight, so go ahead and ENJOY your life a little….it will HELP!
3. There's a PLAN – Liz has created a roadmap of EXACTLY what to do each day. There are 21 days of menus and activities to make your life so  much easier.
4. The FAST RELEASE – Losing quickly at FIRST makes you so much more motivated and some of the people on this diet have lost up to 10 lbs. in the first four days. Now that would keep ME on the plan for sure. Of course that first phase is just to help you get feeling great about losing and is followed up by a great Mediterranean-style diet.
5. Workouts are included – and there's no need to go to spend money on an expensive gym membership. With four different circuits that can easily be done at home, combined with a great walking program, you'll be toning right along with losing.
6. Success stories – there's something so motivating about reading how others have done on this program. With before and after photos that show not only the results, but give an insight into how each of the dieters felt after being on the program, as well as what they liked.
This is an extremely practical weight loss program that is EASY to follow and LIVE with. I'm toasting The Digest Diet, this is one diet plan that I can live with.
I received a copy of this book to facilitate this review. All opinions are strictly my own.