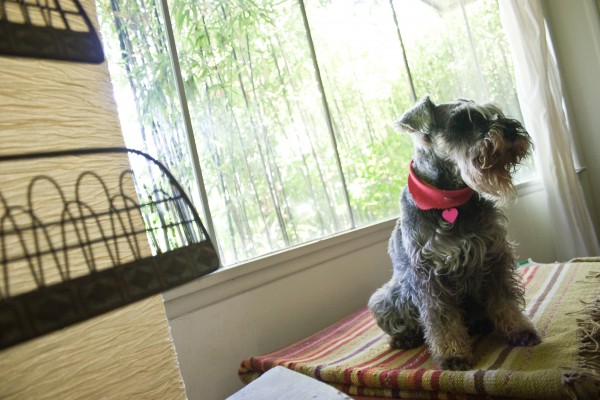 What is it that really makes you feel good?
Helping People?
Helping Animals?
Healthy Eating?
Healthy Living?
Caring for Mother Earth?
With Tom's of Maine Good First application on Facebook you get to tell your friends JUST what it is that really makes you feel good inside, and discover who shares your passion.  Tom's has always been a company that put "GOOD FIRST" and in doing so, sparked the lives of so many others to do what is important to them.
I headed straight to their facebook page to decide WHICH of the choices were the MOST important to me, and of course I couldn't decide. Thank goodness I can come back daily to share my passion for all five, but today….
I chose Helping Animals – because I had Clem sitting on my lap as I stared at the Tom's options. It was so difficult to choose, as all of the choices are so very important. BUT, when a mini-bull-terrier is staring at you with those triangular eyes and LONG nose, you (or at least I) know that was the right choice to make TODAY. Once I clicked through I was given the option to share my choice on  my facebook wall, and I got to see my friends who feel the same way that Clem and I do about helping animals. Friends like Jane, Jerra, and Erika want to use their voices to help animals who can not speak up for themselves.
Truthfully, it was no surprise when I saw the names that popped up from my facebook friends. They are people that I've shared dog stories with and who love their pets as though they're a part of the family. I immediately e-mailed one of them to laugh about how "predictable" we are.
While the first two steps…choosing your "Good First" and seeing who shares your choice was fun, the COOL part of the Tom's of Maine Good First app, is that once I chose and saw my like-minded friends, I was given the option to get a FREE sample of Tom's Naturally Dry  Deodorant. 
Whoo hoo for FREE!I was also able to share the offer with friends like you! Simply head over to Tom's of Maine Good First application on Facebook, and make your choice, see what friends choose JUST as you did, and then GET YOUR FREE Tom's Naturally Dry Deodorant! It's THAT simple (and only takes a minute or two).
I've used LOTS of Tom's of Maine products, but I NEVER KNEW they had an antiperspirant for women that is made entirely from ingredients derived from nature. An antipersperant that works NATURALLY with no artificial preservatives or fragrance!
Want to learn more about how Tom's does good?
Follow
I'd love to know how you make a difference every day. Please share the ways that you thnk "good people can do good things" in the comments below and let's SPARK a conversation of helping others.
This is a Sponsored post written by me on behalf of Tom's of Maine for SocialSpark. All opinions are 100% mine.
Image courtesy of: http://www.stockfreeimages.com