Ava received a copy of Scuba to review from the author, we have included affiliate links for your shopping convenience.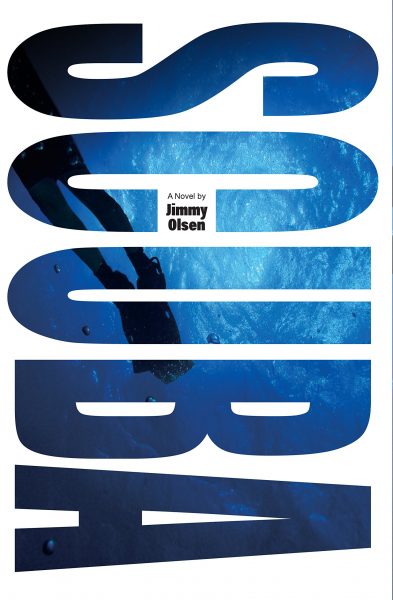 Ava called to let me know that she had a book she was dying to tell you all about by one of her favorite authors – Jimmy Olsen. My response was the same as yours and while Superman made Jimmy Olsen a household name.  Ava promised me that Scuba will make author Jimmy Olsen a household name, also.
It just so happens that in the nine years I have been a blogger and book reviewer (The Review Broads, now retired), I have "met" many authors online via text after my reviews. James Patterson, Layton Green, Kate Atkinson…. the list is long.  And yet, Jimmy Olsen is the author I remember best, having reviewed all his compelling novels (Poison Maker, Things in Ditches, The Hero of Blind Pig Island and Other Island Stories and Scuba. Jimmy Olsen tells a tale like no other.  And Scuba reminds Grishom, Patterson, or Robotham to keep on their toes:  there is a new super author in town!
Scuba has it all: pirate treasure, sunken ships, alluring characters, sea creatures, a love story that captivates, a plot swollen with delicious and dangerous twists and turns that tunnel into us and drives the book like a steam engine, and a captain full of faults and depravities that we adore.  Fast, blood curdling, and full of intelligence, Scuba spears itself hard and lands true.  I could NOT put it down.
No "wham, bam, thank you ma'am", Scuba thrusts from the Caribbean Islands in 1806, then whirls around the Minnesota Lakes, where the British are fighting to retain Charming Island, one of their Caribbean strongholds against the French fleet.   Francois Javert, one of the French Navy men kills Reggy Wilson, a British seaman.  And so, begins a war that will entail family legends 200 years later.
15-year-old Warren Wilson wants to become a diver.  He is on his way to Minneapolis for lessons from Freddy the Frogman.  And he is determined.  For Warren has a secret that propels him forward.  His 11-year-old brother Stephen drowned trying to save Warren when Warren fell into the ice.  And Warren knows he killed his brother.
After his Navy service, Warren accepts a diving job in Santa Domingo from Salmagundi Javier.  Only the job does not exist when he arrives. Sal is a con man.   Sal convinces Warren to go to Charming Island where he meets Jacques Leon Du Gard Javert, called the Fat Man.  The Fat Man owns everyone and everything on the island and wants the island to vote for independence from the British, so he can establish his own "kingdom" of thievery and crime.  And so, the fight between Wilson and Javier begins.
Throw in a beautiful island woman that captures Warren's heart and becomes his navigator and lover on his boat, and trouble simmers and bubbles.
Hot and fast, the tempest whirls as Warren Wilson fights for his life, his woman and his island against the French enemy that is always one step ahead of him.  Fantastic read!  Michener, take notes!