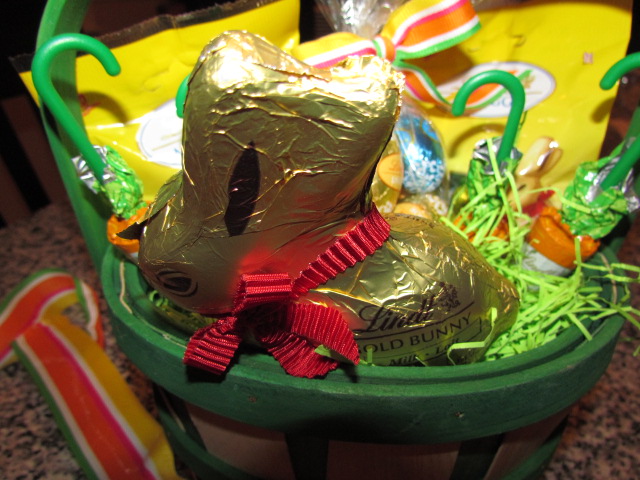 Well, maybe it wasn't the ACTUAL Easter bunny, but someone who works for her/him. Someone who is in DIRECT contact with THE EASTER BUNNY told me that this year, is the year of giving. Hey, I don't mess with bunnies who give out candy…you know what I'm saying? Especially when those bunnies drop a basket of Lindt Chocolates all beautifully packed into a basket that has MY name on it.
The centerpiece of my basket? The ONE bunny that I wait all year for…the Lindt Gold Bunny! This year the Lindt Gold Bunny turns 60 (it's nice to see that it's older than I am). You know, it doesn't look a day over 21. Seriously – did you have any idea that LINDT GOLD BUNNY offers one of the widest collections of chocolate Easter bunnies, with bunnies ranging from mini 10 g bunnies to life size 1 kg bunnies available in milk, dark and white chocolate? No matter WHAT your taste or how much you want there's  the perfect size and taste for every bunny lover.
My favorite is still milk chocolate, just like when I was a child, and Lindt's  is so creamy and satisfying, that I have a tendency to over-indulge a bit (it's a good thing that the Lindt Gold Bunny only hops in once a year – or I'd weigh a bazillion pounds).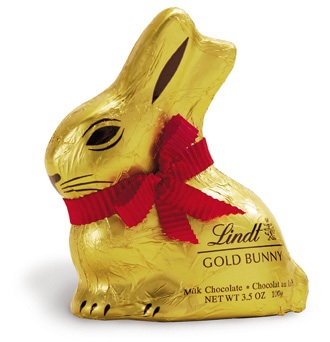 This year, when you purchase your Lindt Gold Easter Bunny,  10 cents of proceeds will be donated to Autism Speaks  (this hold true for every bunny sold in the U.S. in 2012 no matter what size or type of chocolate). To sweeten the pot, Lindt is also donating up to $25 to Autism Speaks for every #Pin4Autism pin on Pinterest through Easter.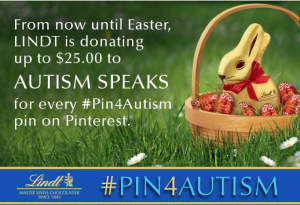 Want to help Lindt share their money with Autism Speaks, just visit Lindt's #Pin4Autism board on Pinterest and select and re-pin the Easter tradition photo that you enjoy most.  Complete details can be found on Lindt's blog.
In honor of Easter, the Lindt Gold Bunny and Autism Speaks, one Champagne Living reader will win their own Lindt Hoppy Easter Basket (ARV: $55) filled with delightful chocolate treats from Lindt, and of course a Gold Bunny.
I received a wonderful Easter basket filled with delicious goodies from Lindt to facilitate this review. All opinions are strictly my own.
GIVEAWAY
Winner – Jo S. – Baltimore, MD
Extra Entries
Follow me on twitter @zipporahs and tweet which kind of Lindt Chocolate is your favorite.
Comment below with your tweet
Subscribe to Champagne Living,  follow me on facebook or twitter – all found on the sidebar (each counts for 1 extra entry)
Tell your peeps on your blog, facebook page or twitter about this or any post (each counts for 1 extra entry) and link to us.
Share this giveaway on any contest/sweepstakes/giveaway site for 5 extra entries..
This giveaway is open to US residents, 18 and over and ends on April 1, 2012
No purchase is necessary.
Odds of winning are dependent upon the number of entries received.
Void where prohibited by law