One tequila, two tequila, three tequila, floor. – George Carlin
It's been a while since I've licked the salt off my hand, threw back a shot of tequila and sucked on a lime wedge, then again tequila has come a long way since then as well. As an invited guest at Cantina Laredo's quarterly tequila dinner at the Palm Beach Gardens location, sponsored by Tanteo Tequila last week, I wasn't certain that I had the stamina that I had when I was younger, but one look at the interesting menu and I was in. Life's about taking chances – I figure what's the worse that could happen (I had a can of Mercy available)?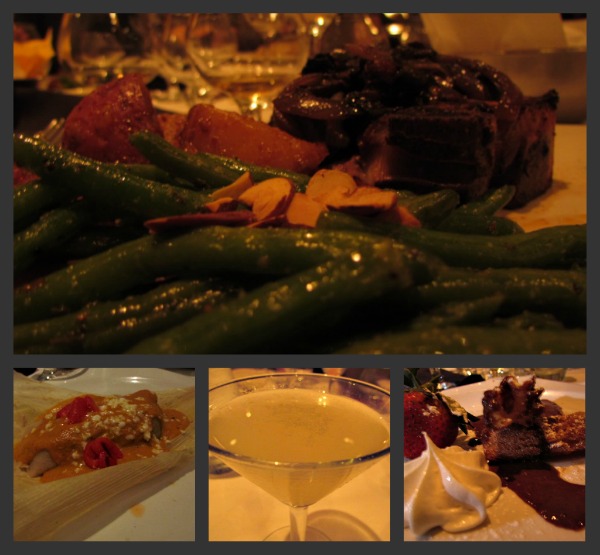 I walked in to the dinner slightly late and the three communal tables of diners and drinkers had already begun. The laughter was infectious and my tablemates were warm and welcoming (flagging down the server and letting them know I needed to "catch-up"), and catch-up I did. I was presented with three snifters of Tanteo Tequila, each infused with a different very traditionally Mexican flavors. Off and running (or rather tasting) – I began by drinking a bit of
Jalepeno Tequila – that's right, the agave has been infused with a mild jalepeno flavor – just enough to tingle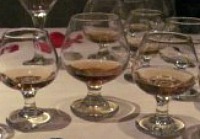 Cacao Tequila – think of a fabulous mole made with roasted, raw and malted cocoa and you've got a RICH flavor that was my favorite of the three
Tropical Tequila – picture yourself enjoying the fruits of Mexico (guanabana, mango & pineapple) all mixed into the perfect base of agave and balanced with a touch of jalepeno
Each of the courses of this wonderful Mexican dinner were set with a tequila drink that complemented the food perfectly. Imagine a chicken tamale with a mango mole, or an oh-so-spicy Venison chili that melts on your tongue, cooled with a watermelon tequila martini and you get the picture. For our  main course we had the option of a grilled veal chop or sautéed sea bass oscar (the choice had me reeling in food envy as I wanted both). The kitchen staff SHINED with each course.  Finishing off with churros to dip into a chocolate raisin sauce with a touch of whipped cream, a strawberry and the most heavenly coffee drink made with Tanteo's Cocoa infused tequila.
The experience of fine dining in a casual atmosphere with comfort foods taken to the next level is a culinary treat that I need to revisit soon, and my new found respect for tequila goes way beyond a lick of salt and a lime wedge.
Cantina Laredo's Tequila Dinners are offered quarterly at their Palm Beach Gardens location. The next dinner is set for some time in June and all of the courses, including drinks are prix fixe at $49.99.
For reservations or questions call: 
Cantina Laredo
4635 PGA Boulevard
Palm Beach Gardens, FL
(561)622-1223
Cantina Laredo serves a variety of authentic Mexican dishes, including daily fish specials, grilled chicken and steaks, complemented by signature sauces, made with the highest quality, freshest ingredients available. Cantina Laredo is one of 116 restaurants throughout the U.S. and the United Arab Emirates operated or franchised by Consolidated Restaurant Operations Inc. (CRO, Inc.) out of Dallas. Cantina Laredo has 30 locations throughout the United States.
I enjoyed a wonderful Tequila Dinner as a guest of Cantina Laredo. All opinions are strictly my own.