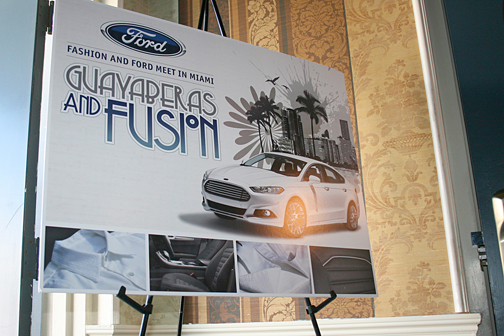 Innovation has always been synonymous with Ford.  From it's roots as the first mass produced automobile to the 2013 Ford Fusion, a car  designed to appeal to our aesthetics as well as  fulfilling our need for the newest and brightest technology. Ford has stepped up with a "bring it on" attitude, making us all stop and take a second look.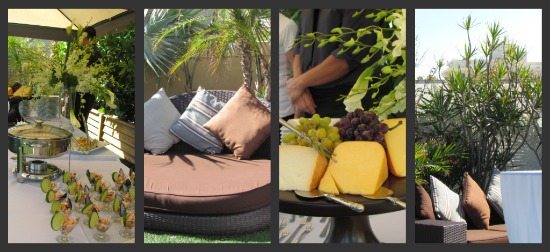 Never afraid to step out of the box, Ford hired former fashion designer  Anthony Prozzi to design a car that's on our "must have" list! Last week I had the opportunity to spend some time with Mr. Prozzi, as well as Miami based Guayabera designer Maria Ofelia Gravier Amas at the Ford and Fashion event held during Miami International Fashion week on a chic rooftop setting. Leave it to Ford to find this hidden gem. Our big sky oasis was spread with an amazing array of food and drink that ranged from seviche and sushi to filet mignon. Drinks were plentiful and the tone was friendly as we made our way inside to learn the history of the Cuban based Guayabera and how Ms. Gravier Amas is moving it into the 21st century. Her re-designs for both men and women of  the comfortable four-pocketed shirt worn by many Latin and island cultures , has been made much more elegant with her touch.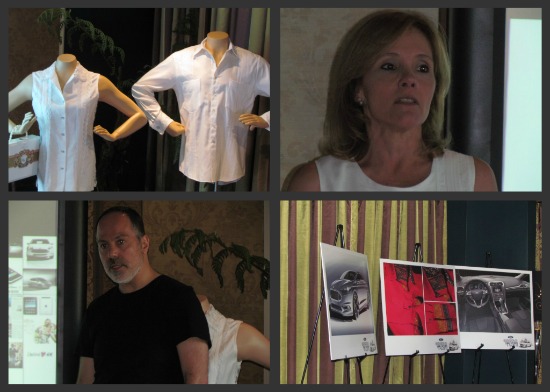 Taking a not so distant leap, Mr. Prozzi took us from the world of fashion to automobile design using the same methods that he would for a garment, deconstructing the "usual" and creating the elegant and user friendly 2013 Ford Fusion.
Detail and craftsmanship are key inside the new Ford Fusion, as well. Dynamic structural elements throughout, like the real metal grilles over the speakers, show that every detail of the car has been aesthetically enhanced. Surfaces are softer to the touch, and nothing has been left to chance – even the audio volume knob is shaped to better fit the customer's fingers.
The all-new Fusion also is the first sedan to offer gasoline, hybrid and plug-in hybrid editions, each with expected top fuel economy. Personally, I can't WAIT to get behind the wheel and take one for a spin…with elegance like this, the Ford Fusion sounds like it will provide a true Champagne Living experience.
Thank you to Ford for inviting me to this beautiful event. All opinions are strictly my own.