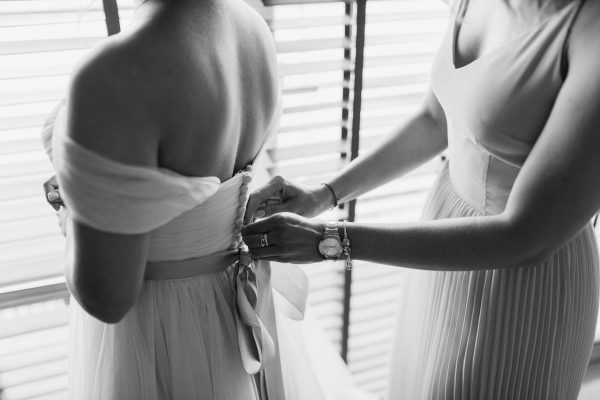 You've got the ring on your finger and are no doubt gearing up for your big day, however, if planning a wedding has never been high on your dream to-do list, you may be feeling a little lost in the mounds of planning that comes with preparing for a wedding. If that sounds like you fear not, you've come to the right place. We've put together a quick list of things to think about before the big day. Check them out below!
Say Yes To The Dress!
Whether you're happy with a high street dress, or hankering after a couture wedding gown, picking your dress should be high on your list of priorities. Even if you're ordering online, it's important to be organized and find your dress early, as tailoring can take weeks if not months to finish. If you're not sure about the style that will suit you best, grab some of your closest gal pals and some close female family members and book a dress appointment in a bridal shop. That way you can try on a ton of gowns to see what looks best.
Find A Venue
Of course, you'll need a venue for a wedding, but rather than pick the first one you see in an online catalog, search around for a place that really suits you and your partner. You don't have to get hitched in a cookie-cutter hotel or stately home. If you and your other half have quirky interests or a hobby that bought you together, why not look for a venue in line with that hobby? If you love the outdoors why not get wed in a beautiful garden? If you are huge science fans, consider a museum, or if you're huge foodies, look for local restaurants that can host weddings. Whatever you pick, just make sure it's personal to you both.
Master Your Guestlist
The guestlist can be the trickiest part of a wedding, and you and your partner might struggle to agree on who makes the cut. Often, outside influences such as parents will want a say. If they're contributing financially to your nuptials then it's best to allow them a table of their own guests, but if you're paying for the wedding on your own, don't feel obliged to invite your Mom's Brother's Neighbour's Ex-Wife's Dentist. The last thing you want on your big day is to look around and be surrounded by strangers.
Create A Wedding Website
A wedding website is a great way to keep your guests up to date without sending out countless reminders. You can even forgo the expensive invites and use your website to invite guests via email and log their responses digitally. A wedding website can include cool features such as a gallery for you to upload pictures post-event and even serve as an online message board for well-wishes from your guests. You don't have to splash out on a pricey web developer, simply use a platform such as Squarespace or Apply couple (a dedicated wedding site creator).
Which of these items are you excited to cross off your checklist? Share in the comments!