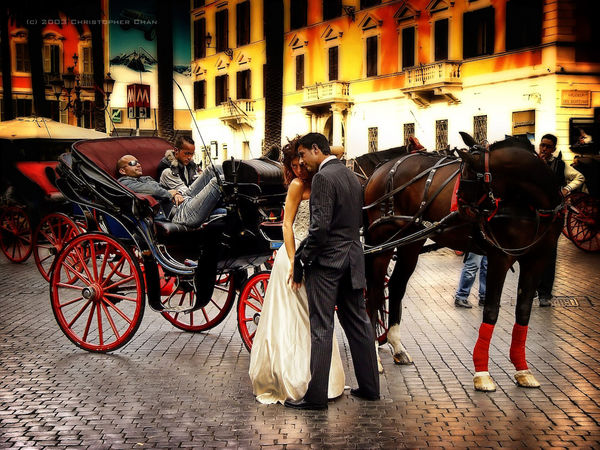 With so many people already living together before getting married these days the biggest issue for the guests seems to be the present. What do you buy for the newlyweds? They've already got a kettle, a toaster, and even an ice cream maker (which has never been used). A lot of couples ask for cash, but guests can often find this awkward. Give too little and you look stingy but give too much and you'll look like you're showing off. But if you're not giving cash or some form of household appliance, what can you buy them?
Having just paid for their wedding and honeymoon they'll probably be pretty tight with the purse strings, and when they crash back down to earth after the high of getting married they may not be able to afford to treat themselves. So why not buy them some that will allow them to have a little bit of fun? There are plenty of companies around offering experience days, so you could send the couple on a relaxing spa weekend. Or if you think they'd prefer something to get their hearts going, you could give them the opportunity to compete against each other at a track day.
You could give them a gift so that they could enjoy a wine tasting session in their very own home. Buy them a wine hamper from Clearwater and they can taste wine from all over the world, from France to New Zealand. And if wine isn't their thing then there's plenty of other hampers to choose from; you can even create your own. You can hand pick everything that goes into the hamper to make sure they will enjoy everything in there.
Another route to go down is to buy them something like a photo-shoot. With everyone now having digital cameras everything seems to be stored on a disk and is rarely printed off. By buying a photo-shoot the couple can get printed images of themselves to put on the walls on show off to their friends and family. Plus you can give them the feeling of living like a model or a film star for the day. Companies such as Lavish Locations in London actually offer the opportunity to hire out locations used for films and TV for a photo-shoot so you really can feel like a celebrity.
There are plenty of things to buy for the people who seemingly have everything. It may take a little bit of research and a little bit of interrogation to find out what they really want. But when buying a wedding present for someone you hope that you'll only have to do it once, so you might as well make it special. Try to find out something they've always wanted to do but never had the time or never had the chance, and see if you can make that dream a reality.
Photo credit: Christopher Chan / Foter / CC BY-NC-ND