I am stuck somewhere between being a child of the 60's and being a grown up living the glamorous life. Yes, I jet set all over the world, but most days you'll find me at the mansion with my favorite dream catcher earrings, a leather wrap bracelet wound around my wrist, and flip-flops on my feet, dressed in flowing yoga pants and of course my signature Breton striped shirts.
I have a doctor who both monitors my cholesterol (and prescribes Statins), and at the same time makes suggestions of the best Yoga studio in town. My mother was a vegetarian, and then later we were subjected to the Macrobiotic diet, and I have no issues ordering from the drive-thru at McDonald's.
So, when I visited the home of Heel USA in Albuquerque, NM to learn about their FABULOUS homeopathic products.  I was open. I mean, there are a lot of issues that I deal with on a daily basis that I don't want to take medication for.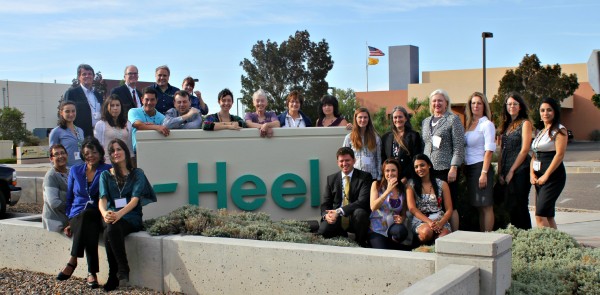 For instance
Sleep – tried Ambien/tossed it down the toilet, tried Melatonin/horrible nightmares, warm milk/what…am I 99 years old?
Pain – I have a joint disorder and an accompanying PAIN issue. It's not something I like sharing with others. I hate having cortisone shots, they took my favorite painkiller off the market, I am NOT under ANY circumstances having an 8th surgery.
As a lifestyle writer in a room of people with medical backgrounds
I was definitely a fish out of water. I LIKE THAT. There's nothing better for learning than having a room full of folks who have the answers to your questions, and boy did I have them. Considering the other people at this summit were people like Susie Cohen, America's Pharmacist (yes, from Oprah and Dr. Oz), as well as Andi Bartz from Whole Living magazine, and my new bestie Dorothy Foltz-Gray who's new book just hit the shelves (we'll have a review of it on The Review Broads VERY soon), I knew that if something was OVER MY HEAD (and plenty was) that there were people nearby I could ask what it meant.
While my head was spinning from some of the info, I got the gist of it…and I GOT HELP! Heel, Inc. sent me home with a goodie bag of homeopathics to try and I no longer have to go whining to my doctor about lack of sleep. With a bottle of Neurexan next to my bed, I place ONE tab under my tongue and I get a peacefulness that just washes over me. It's almost like someone turned the volume off in my mind so I can relax.

BUT, what we were REALLY there to learn about was Traumeel. With 12 active ingredients this cream and pills this is
Pain Relief You Can Feel Good About!
If I were one of those medical types I was sitting with, I could tell you JUST how it works. I can't. If I were one of them I could tell you WHY it works. I can't. If I were one of them I could tell you the active ingredients and why each is so important to pain relief. I can't.
What I can do
Is tell you that I've been in pain lately and have used it. It has taken the edge off my pain, making it easier to move and to stand (I have standing and walking issues). Rather than get ANOTHER of those AWFUL cortisone shots, or take some prescription medication that messes with my digestive system (like the Celebrex I took), I get similar relief without the side effects.
I love the fact
that depending upon WHAT I need it for
Traumeel® is available in multiple dosage forms such as an odorless topical ointment & gel for on the spot relief and as a tablet & oral drops for systemic pain relief throughout the body
I've been using it a lot this week & I'm liking the way that I feel. I can't tell you how it works in the LONG TERM, because I'm new to it. I will keep you updated, because I know that like  me, a lot of you are looking for alternatives. You eat healthy and exercise, I know that you want your remedies to be just as healthy.
Since I'm no good at the medical details.
You can always find out more about Heel, Inc. at
I guess I can live with both sides of myself. I kind of LIKE the balancing act between glamour gal and earth mother. It suits who I am very well…complex with a rich life…like a good champagne.
I was a guest of Heel, Inc. and received product. Since then, I've gone to Whole Foods and ordered MORE of it. I guess that means that  this would be semi-sponsored. All opinions are my own.