A few weeks ago I sent Rachel Ferrucci to San Diego with Nissan to drive the all-new 2014 Nissan Versa Note for me. I wasn't able to go, and you know how I just HATE missing out on driving a GREAT car around a fun city like SD. While Nissan footed the bill, Rachel put her nose to the grindstone and worked hard. You'll be reading MORE about the fun that she had in America's Finest City on RachelFerrucci.com, and NO…she didn't make a run for the border.
I love to keep up with the latest trends and what's hot, especially when it comes to new cars.
San Diego was the location picked by Nissan to let the surprise out of the bag about the new 2014 Versa Note hatchback. I was able to really test it out (beyond the drive) to see just what it had to offer. Although the color is important to me when buying a car, I'm really looking to know:
– What the car can do for me?
– Do I get a lot for my buck?
– Is it dependable?
– How is it on gas?
– Is there enough room when I shop?
– What is the horse power?
– What are its safety features?
What 
The all new 2014 Nissan Versa Note hatchback, stylish and accomodates the on-the-go person.
Why
1.6 liters, 109 horsepower, 107 lb-ft of torque, 4 valves per cylinder
(I did put the pedal to the medal to see if this baby had oomph- it does!)
Active Grille Shutter – At about 20-25 mph, the grill shutter closes which helps reduce aerodynamic drag
"Boomerang" tail lights with four thin openings on the flared outer lip helping reduce wind turbulence around the back of the vehicle.
Body construction with front and rear crumple zones
Advanced Air Bag System
Your Door to More – large split-folding floor board that can be used to create a flat cargo area floor (with the standard 60/40 rear seat folded down), or to provide a hidden cargo storage area.
My Top Three Favorite Features
1. Bird's Eye View- Around View® Monitor. Four small superwide-angle cameras mounted on the front, side and rear of the vehicle to provide a "bird's eye" virtual 360° view of objects around the vehicle.
*I backed into a parking spot with all the windows blacked out and I was in between the white lines.
2. Rear seat legroom at 38.3 inches (see my feet in pic) Front row headroom at 40.8 inches
3. Best-in-class** 40 mpg highway, 31 mpg city and 35 mpg combined city/highway fuel efficiency (I do a lot of driving)
All of this and the Nissan Versa Note starts at $13,990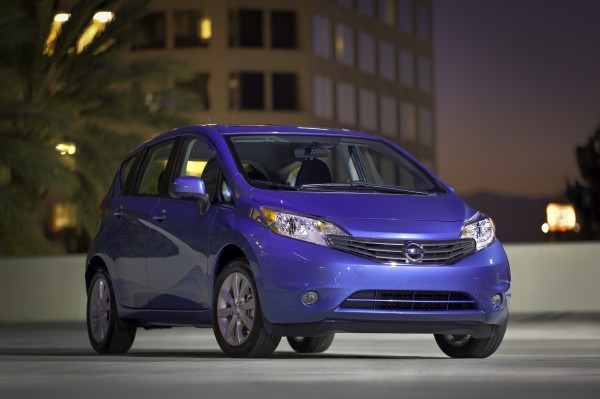 For more information Visit:
Thank you to Nissan for inviting and hosting Champagne Living on another FABULOUS trip to drive a solid car. All opinions are my Rachel's own.