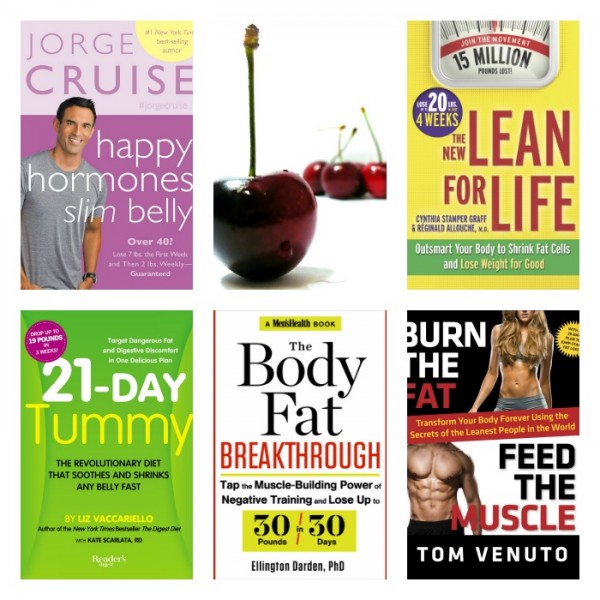 It's resolution time, and  the NUMBER ONE resolution for many is to lose weight. I've been burning through some of the review copies that were sent to me, along with a few that I bought and have whittled it down to 5 popular books. These are the weight loss books and diet books that you'll find on my Kindle and on my book shelf right now….
I've been a fan of Jorge Cruise since the first time I heard his simple approach to weight loss and exercise on one of those morning television shows. I've tried his programs and they've WORKED, so when he came out with a diet book that targets women over 40 I had to get it. The promise of losing 7 lbs. the First Week, and Then 2 lbs. Weekly-Guaranteed (the book's subtitle), REALLY grabbed my attention, since it seems to take FOREVER for me to lose an ounce since menopause.  While he could have easily skipped repeating the same information about how women over forty NEED SUGAR because of their homones and need the boost of NO SUGAR for weight loss (he says it over and over…..and over again), when he got down to brass tacks, it turns out that the diet is a combination of his "100 plan" and food cycling.
There are plenty of recipes and step-by-step directions, but what it really comes down to is  2 days of LOW/No sugar (including carbohydrates that turn to sugar in your body), and 5 days of getting a little of those sugars we women of a certain age need to feel happy.
I have this on my Kindle, and I suggest you pick up the PAPER version, as the photos go through some sort of odd formatting which makes it difficult to read.
I have the feeling she's targeting at me. While I used to gain weight evenly over my body, my belly seems to be ahead of the pack lately, and the 21-Day Tummy targets JUST that area. It promises to SOOTH while it shrinks, and it's directed to those who not only gain in the middle, but also find themselves with frequent heartburn, constipation and bloating. Did you know that foods that cause gastrointestinal problems can actually be the same as those adding the pounds to your belly?
This is a delicious diet with foods that I love including Greek yogurt (no surprise), strawberries, walnuts, POTATOES and tomatoes. Filled with beautiful photos that accompany the recipes, this will appeal to the home cook who doesn't want to feel deprived while losing weight, as well as success stories from some of their "Tummy Testers."
It seems there is a female and male version of this book, and the newest edition is one to slip onto your hubby's nightstand. Written by Men's Health Magazine, Dr Darden knows his stuff when it comes to the guys, but since this is an EXERCISE and diet program, we women can join our guys and workout alongside them and get ALL of the benefits as well.
Promising a loss of 30 lbs in 30 days (I'm guessing that number is geared toward men, as they typically lose weight quicker than women do), and targeted at those who need to lose less than 50 lbs, it  is based around a 20-minute resistance training workout using negative (or eccentric) training, once a week. Apparently, this is a little-known weightlifting technique used by bodybuilders to trigger fast muscle growth and burn more fat.
Hmmm….. 20 minutes? I can do that. The diet portion is easy, and practical to follow and like most weight loss programs it will have you guzzling water throughout the day, and even taking a walk after dinner (great couple time).
This book brought back memories, as I remember trying Lean for Life many years ago.  I have found over the years that some diet "types" work better than others for different people. This one combines low carbs with low sugar, low fat and low calories. Personally, I've never been able to stay on their programs as I find that they are a bit too strict for  my taste. For those who need an eating bootcamp approach, this is it.
It is EASY to follow, mostly because it is so regimented. I LOVE it to kickstart my weight loss, since all of the other plans seem indulgent next to this one, and is a staple of the famed Lindora Clinic where it all began. I just can't stick with this for the long run.
This is right up Ben's alley, since he spent the past year losing 160 lbs, and is working on getting the lean look. This lifestyle plan is geared to the gym goer and is the same type of diet that those buff weight trainers use. It's flexible, easy to follow and includes a full training plan for the gym that will leave you looking buff.
This is not a hit and run type of diet, but more of an eating and exercising plan for life. Use what body builders know to look incredible, without getting that ripped look (although he does offer suggestions if you WANT to look like a body builder). From affirmations to gym schedules, your transformation  manual is all-in-one with Tom Venuto's program. The best part is that it works for men AND women, so you and do it together.
ME?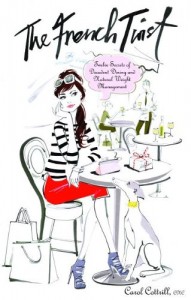 I'm going for a practical approach like French women do (once again). Eat when I'm hungry, stop when I'm full, and walk everywhere. Carol Cottrill has written the BEST book on the subject The French Twist: Twelve Secrets of Decadent Dining and Natural Weight Management
(yes, I've featured it before – but I can't say enough wonderful things about this weight management guide that is more of a LIFESTYLE bible for me, than merely how to lose weight).