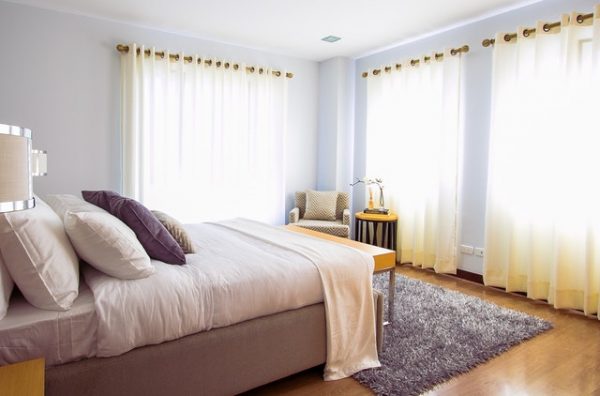 A well-designed home is a welcoming place. Stepping into a home that feels inviting is one of life's great pleasures. Many people find themselves drawn to contemporary style and colors. Contemporary style today is widely varied. Differing influences include the celebrity culture, modern trends in art and changing family values. While such style differs, several trends can be said to unite it. One of the most important are trending colors.
Colors can help tie a room together. They can also help create a theme. Any homeowner who is planning a decorating project or a redecorating project should be aware which colors are popular and likely to remain so in the future. While brands like Ink + Ivy make it easy when it comes to picking bedding sets meeting these criteria, homeowners will need to do a bit more legwork to find the right paint color and harmonious fixtures.
A well-decorated home that has colors that tie into contemporary trends looks appealing and modern. Think carefully about how best to tie all elements of the room together to create a space that looks great from every angle.
Bright Aqua
One of the most popular contemporary colors today is aqua. This vibrant color is one that appeals to many people. Aqua calls to mind relaxation and happiness. It is the color of the sky during the afternoon and the sea at peace. Today, you'll see it used in many parts of the home.
Aqua bedding sets are particularly popular. The soft, warm color helps make it easier to get to bed each night. Aqua also pairs well with other colors. For example, an understated apricot helps bring out the full beauty of the aqua color. Aqua is one of the "in" colors of the moment. Many homeowners and decorators love to use it to add a wonderful pop of interesting color to bedding, towels and other kinds of textiles. Consider using it in your home to help draw attention to an attractive feature such as wood flooring or a skylight.
Muted Gray
Another popular color trend today is that of gray. Gray is an ideal color for use in the home. It's elegant. It's also the perfect neutral color. Gray allows other elements in the room to come to the forefront. Gray ways are the ideal way to help showcase a lovely focal point such as a beautiful leather sofa with an elegant patina or a stone fireplace.
When using gray, think about the other colors in the space. Gray pairs well with more saturated colors such as vivid plum or a bright gold. It's also an ideal foil for aqua. The lively shade will stand out more against a soft dove gray and other grays that shade towards the white side of the color spectrum.
Putting it Together
All areas of the home should work together to help form a beautiful, organic whole that shows care and thought has been used everywhere. Tapping into contemporary color trends is an excellent way to accomplish this goal. Use color thoughtfully.
Each room in your home should have a color scheme that has been worked out in advance. Contemporary colors such as muted gray and aqua are an ideal way to get modern style into each room. An aqua bedding set works well in any bedroom. Pair it with gray walls and another color with lots of vibrancy such as lemon yellow or an elegant shade of purple for an updated look that works well. You'll have a beautiful home that is inviting and bright as well as demonstrating your ability to showcase your love of modern decorating ideas.