As a traveler I get to explore beautiful countrysides, busy cities, and historic monuments. I also get to see the ODD side of some cities. Here are a few fun interactive tech around the world that will get you where you going, what you want, etc.
Mexico
No money for the subway? Bend and give me 10 squats. That' right, in an effort to help fight obesity in Mexico City, the Secretary of Health had these health stations set up at subway stops.  Do 10 squats on the platform and you get a FREE subway ticket. If you're looking for a condom…you can do 10 more squats (I'm not touching that line).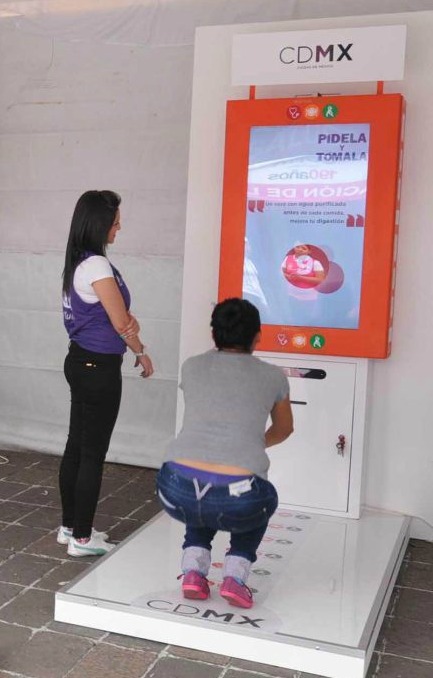 London
Ben's going to like this one (he's a rugby player). Coca-Cola Britain had these FAB recycling zones set up at the Rugby World Cup last  month. Participants had 60 seconds to recycle as many bottles and cans as possible PLUS answer some questions to win a great recycled prize.
New York
I LOVE the unusual vending machines that I see around the world, and there are more popping up right here in the US. My FAVORITE nail polish – ESSIE – has joined the revolution and set up a vending machine in the Jet Blue terminal at JFK. Perfect for touch ups when your flight gets delayed.
For more tech posts, visit a few of my favorite bloggers:
Would your brand like to participate in #FallFun31? Fill out this form for more information.