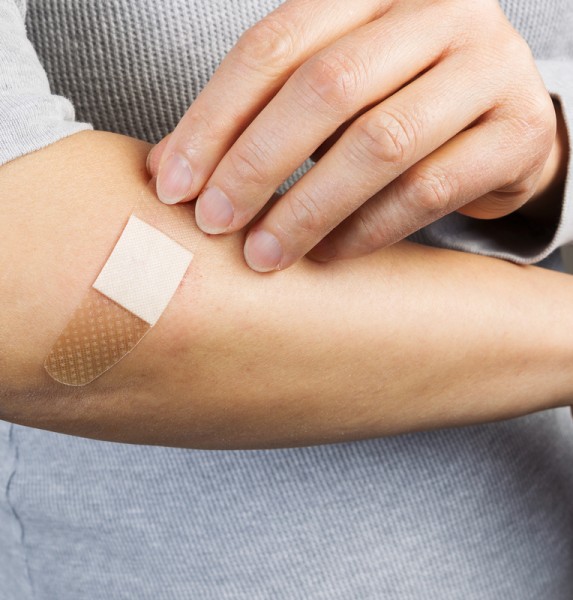 You pack more shoes than you'll be able to wear, make sure that every face lotion that was on your vanity has been placed into your suitcase, and have brought an extra book or two to read as you relax by the pool, but are you ready for a minor accident when  you travel? I'm guilty of stuffing as much as I can in my little carry-on, but other than a band-aid and my prescriptions, I forget about a first aid kit. Having cut myself, gotten a splinter, and been up with a raging headache many a night when I travel, I think it's time to gather up a few items from my at home kit and pack them into one of the cute cosmetic bags that I haven't been using.
My kit
For cuts & scrapes
Band-aids
sterile gauze
cuticle scissors (they're small enough to pack & sharp enough to cut the guaze)
adhesive tape
Antiseptic wipes to clean off any wounds
an antibiotic cream (like Neosporin)
tweezers for removing splinters or slivers
OTC Meds
Aspirin, Acetaminophen, or Ibuprofen (whichever you regularly take)
anti-diarrhea
antacid
hydrocortisone
bug repellent
sunscreen
Dramamine or Bonine (for motion sickness)
and if you have room – cold/flu medicine.
A cold pack is great to have (one of those that you just shake and it gets cold), but hotels, restaurants, planes, etc. all have ice.
Don't forget all of your regular prescription medication.
Maybe it's the mom in me, or the Girl Scout who wants to be prepared, but I've been in situations where I WISH I had thought to bring a simple first aid kit, and ended up ruining a day of my vacation looking for a place to buy some aspirin or a pair of tweezers.