I received a 2-night media stay to facilitate this review. All opinions are strictly my own.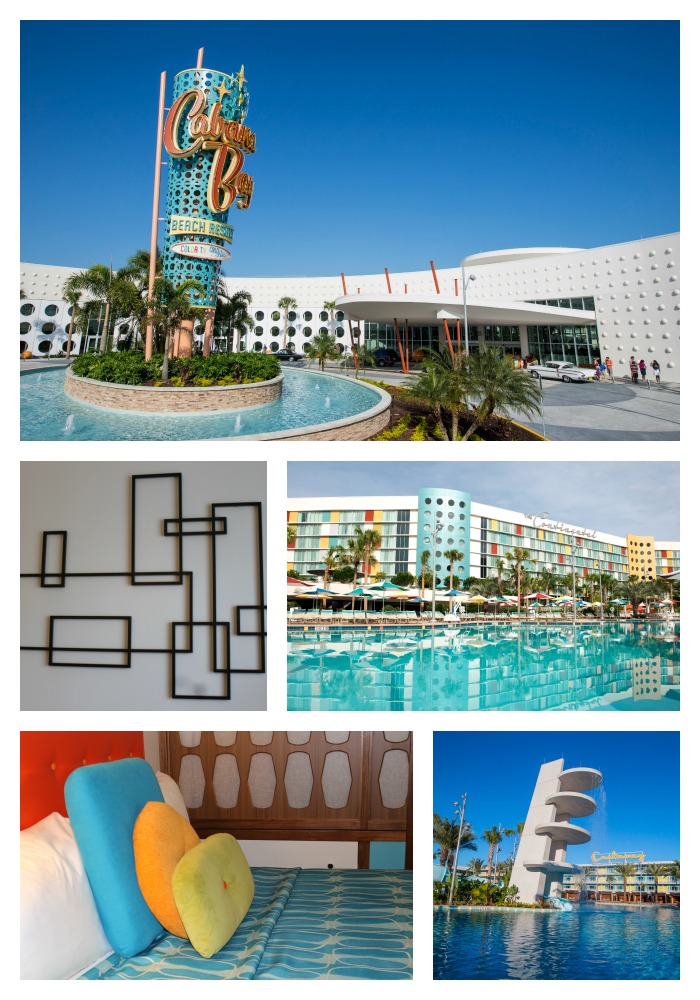 Step into the mansion and you'll see color set against a simple background of black and white. That being said, you can guess that I ADORE anything mid-century modern, which is why I felt like I came "home" last weekend when I visited Universal Studios, Orlando as their guest to check out the all new Cabana Bay Beach Resort hotel and the Wizarding World of Harry Potter.
But wait, I live 2 hours away.
I do, but one step into the Cabana Bay Beach Resort and I felt like I was back in "OLD" Miami Beach. The Miami I used to visit as a child when I'd go see my grandmother. I was instantly filled with memories of Esther Williams, slinkies, and little polka dot bikinis. With it's cat-walked buildings, and names reminiscent of hotels in the 50's and 60's, Cabana Bay Beach Resort is that POP of color, in an otherwise muted hotel scene. It's about time that someone realized how HIP Bauhaus really is….thank you Loew's!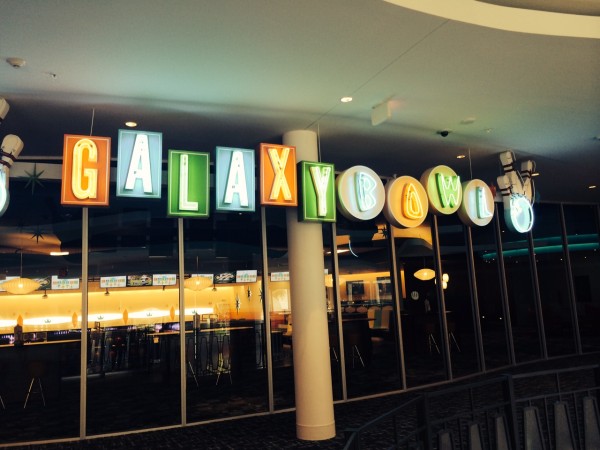 Of course you're at Universal Studios Orlando, there's so much to do, and you can get there simply by stepping outside and grabbing a shuttle, complete with surfboard on top, but not before walking by the display of cars from that era.  From the retro lobby to the Galaxy Bowl you'll feel like you've stepped back in time. Enjoy a tuna noodle casserole or some spectacular macaroni and cheese, just like mom used to make at the Bayliner Diner as you watch commercials and cartoons that you (or your mom & dad) grew up on. Of course if you just CAN'T live without your Starbucks, there's one located in the hotel as well.
The HIGHPOINT for me, is the water.

With a retro diving tower that hides a 100 foot water slide, to a lazy river, water babies to grannies will have the time of their lives. Grab a tube and relax away the day as you float  under the beautiful Florida sun. Splurge a little on a private cabana with flat screen TV, teak slatted sides and comfy lounge chairs (oh, pool boy…). It's a great way to have a family day together.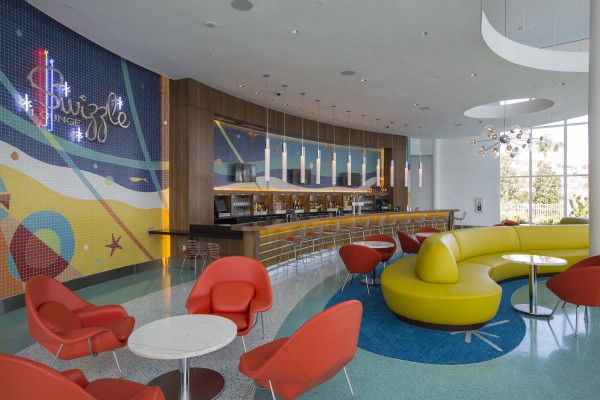 Send the kids to play for a while at the Rec Center. They'll enjoy a good old fashioned game of "Go Fish" or Monopoly (and YES there are also plenty of video games), while you enjoy a drink at the Swizzle Lounge located in the lobby area. The drinks are new twists on old favorites like the "NEW" Old Fashioned and Cucumber Gimlet (which I never did get to try), or order a frozen drink poolside at the Atomic tonic.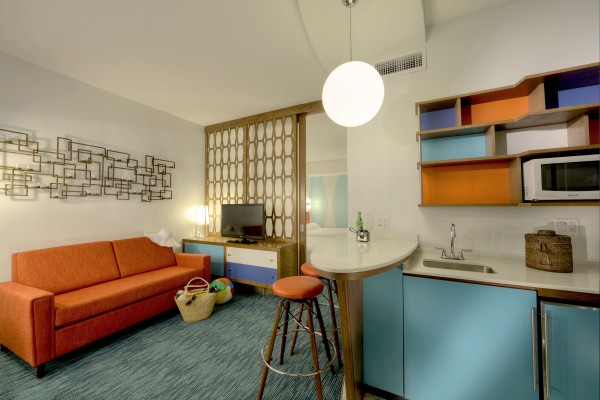 The perfect spot for families….not only is there something for everyone, but the family suites are HUGE, with microwave, fridge, sink. coffee maker (YESSS) and a sitting area with pull-out full sized sofa. Even the bathroom has been designed for the family in mind, with a separate shower area, and a separate toilet area, so no one has to "WAIT."
For those who just CAN'T leave 2014 behind for a while, all of the rooms are equipped with free wifi and flat screen TV's.
Prices for the rooms are reminiscent of days gone by. I spoke with a few people in line as I was checking in, and one showed me his standard room for only $79 per night for Florida residents, while the other said she'd scored a family suite for only $139. Of course prices are dependent upon the time of year that you're visiting.
Location:
6550 Adventure Way, Orlando, FL
888-430-4999
Website: Cabana Bay Beach Resort