As you know I love performance cars.  I'm consistently coming to conclusions that I unjustly compare everything to European Super Cars.  I've always liked trucks, but somehow I thought that they just were not my thing (to drive).   I was wrong.  I f*cking love trucks they are so much fun, especially off-road and driving fast.  Driving the hills in the picturesque Barnsley Gardens made it an even better experience.
So what did I think of Barnsley Gardens, the new 2014 Toyota Tundra, and the new 2014 4 Runner…lets see!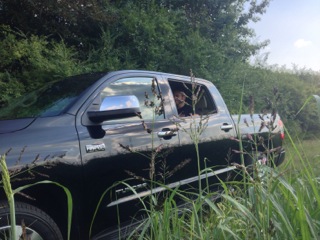 The resort was about and hour and change out of ATL so it was time for a nap and some banter in the car with the other press on the trip.  We arrived and I was first floored by how amazing The Barnsley Gardens Resort looked.  We had a quick bite and it was off to learn about the cars and drive them!  It's one thing to have someone tell you about a car and see it up close, it's a completely different story to actually drive it.  I'm used to driving smaller, fastener, more nimble cars but I was definitely in for a treat here.
First I the Tundra on the open road in scenic Georgia. 
Yeah, that was nice and it drove so much better than I had expected.  It was wicked comfortable, the steering was nice and tight, and the radio system was amazing.  It didn't feel like I was driving a full size truck…I was definitely impressed with how smooth and plush it is. I was beginning to think that this truck was kind of a bougie impersonation of a truck.  That opinion was soon to change.  On the pavement it was a nice luxurious car – more than a truck and that didn't sit well with me. Off-road on the other hand was a completely different story.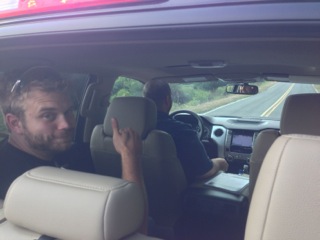 Off road time!!! 
It was time to drive the Tundra like I stole it (it always happens at one point when I am reviewing an auto, you just gotta let the beast loose sometimes).  The 5.7-liter DOHC EFI V8, aluminum block with 32- valve aluminum alloy head with Dual VVT-I is just what the doctor ordered when powering this bad ass over hill, mountains, and through streams with all of the luxury of the interior.  The Tundra is a killer off road with decent speed, big comfort and major versatility where pavement doesn't exist.  I can not exclaim how much I loved taking the Tundra off road.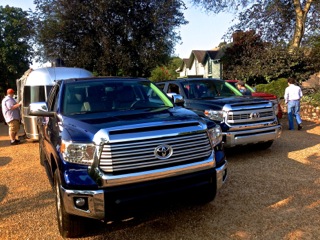 Then it was time to take the 4 Runner off road. 
When I got behind the wheel I was still used to the Tundra so it was a bit of an adjustment driving a much lighter car off road.  I was flying like a bat out of hell in this thing because when I started to drive I was used to the truck that was a half ton heavier.  Its 4.0-liter, 6-cylinder, 24-valve, aluminum alloy block with aluminum alloy head engine and Independent double-wishbone suspension with stabilizer bar was more than enough to handle the punishment I was dishing out.
With both autos I was more than grinning ear to ear while driving, but it was time to pack it in and have a nice sit down dinner and relax for the evening.
The accommodations were amazing. 
Dinner at the Ruins of Barnsley Gardens was amazing and completely fit our outdoorsy feel.  Great wine and delicious food (I had the best snapper I've had in forever!) made the night memorable (the drinks did make me forget a bit).
Then after a few too many drinks I decided to pack it in and pass out in a comfortable room that was so luxurious.   Honestly I still had the Tundra and 4 Runner on my mind (and a little drunk) with time to pass out and dream of driving fast off road.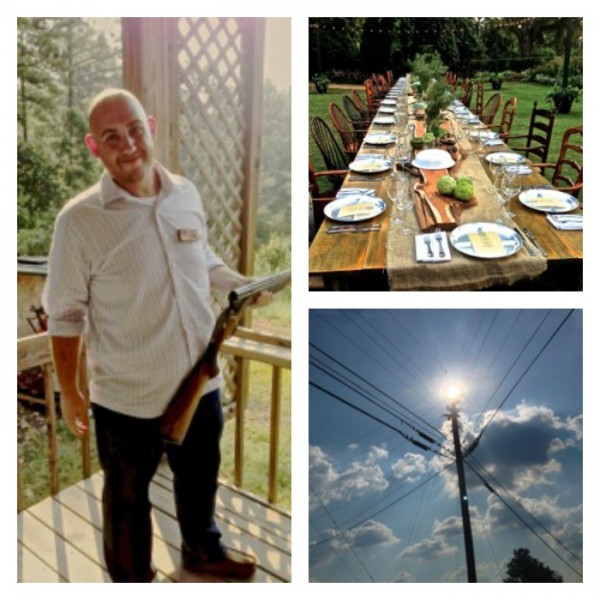 The next morning we learned all about the towing capacity of the Tundra and realized how easy it was to bring your life with you with the truck.  It had no problem towing an airstream mobile home.  I didn't even feel the weight pulling it back (serious power).  Next, we carted down to the shooting range and had a great time shooting clay (one of my favorite pastimes).  I'm pretty handy with a shotgun and I got to blast away for a few hours.
I was so sad to go but my time with the 2014 Tundra and 4 Runner was up
A trip back to the airport and back to reality still have me fantasizing about returning to Barnsley Gardens driving hard all day and relaxing and eating and drinking all night again.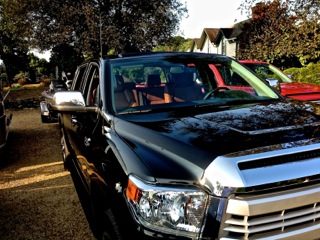 Do yourself a favor
If you're in the market for a truck – the Toyota Tundra should be on the TOP of your LIST. For something a little less heavy duty – check out the all new Toyota 4-Runner and tell them The Gin Joint sent you!
Details
Thank you to Toyota for hosting this incredible journey to Barnsley Gardens and getting me behind the wheel of some MAJOR trucks! As always, all opinions are strictly our own.