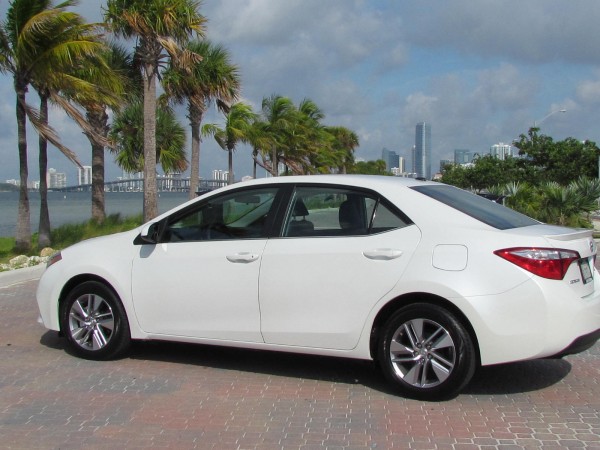 There's nothing MORE that I LOVE than spending a few days with my girlfriends, especially in a city like Miami. When Toyota invited me to the first drive of the 2014 Corolla at the BEAUTIFUL Viceroy Hotel on Brickell for a couple of days, I looked at the guest list and said GIRLFRIEND GETAWAY. Joe, who invited me, had NO CLUE what he was in for. Four girlfriends, a night filled with food and lots of alcohol, followed by all of us packed into the adorbs Corolla for a little sightseeing, peppered with LOTS of girl talk and crazy stops along the way. Poor, poor Joe.
Think about it
All packed into a compact car, makeup bags out, putting on lipstick and checking out the sweet ride. Joe, Joe, Joe…WHAT were you thinking?
But we were on a mission. With Alicia at the wheel (Aly doesn't drive, and I had driven almost 3 hrs to get there), we were in GREAT hands. That woman can drive ANY CAR, ANYPLACE. I know, I've been in the car with her on mountain roads with no railing watching a "body" being dumped out of a trunk – but, that's ANOTHER story.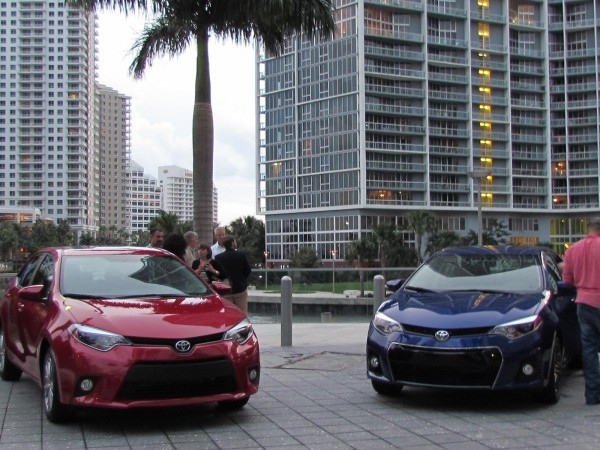 Girl Talk
I measure a car's road noise by the girl talk. If we can all dish the dirt at the same time and HEAR each other, you know that the car is solid with no outside noise. I never heard anything outside of those doors, it was just a constant cacophony of laughter and fun. Since I currently drive a car where I can hear the tires on the pavement, this is a HUGE plus for me.
Smooth
Four women, three of them putting on lipstick while the fourth drives, means a nice smooth ride. No clown mouth, we all looked AMAZING.
Styling

With Miami as our backdrop we decided that this car was SEXY enough for the four of us to "kitten pose" on. Jill's lounging on the hood was hands down the BEST of the lot, mine was a bit  more demure (since I couldn't hoist my big fat body up). The sleek, crisp lines of the 2014 Corolla, and it's lower, wider, longer stance (sounds like an X-Rated novel here), translate to a HOTTER looking economy car. While this car has the look of a tiger on the outside, it's a lamb on the interior with comfortable seats and a soft touch dash. Purrrrr…..
I want it all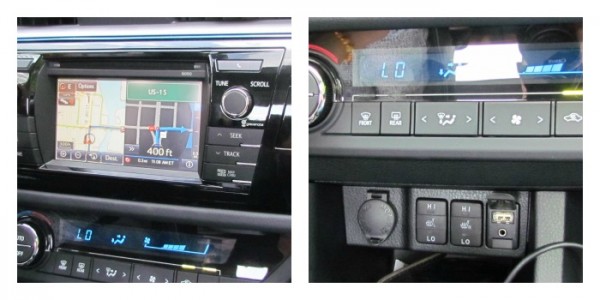 I was interested in how the "toys" compare to other systems that I've played with. It's got your usual bluetooth connectivity, and of course a smart key, push-button start. In Florida we don't need the heated front seats, but for those up in the northern states, this is a GREAT option. The Entune's nav system, and rear view camera were SPOT ON, as we had NO CLUE where we were going (or coming), and were able to maneuver our way back to the hotel after getting a little off track (honestly, we were looking for great shopping spots and veered off of the course that we were supposed to be on).  The Toyota Entune system with App Suite provided us with PLENTY of entertainment (although if you've ever been in a car with four friends, you tend to talk OVER the music). I was impressed that it synced with the Pandora stations on my iPhone.
Ride me ALL night long
At 30 mpg city and 40 mpg highway, the LE that we drove has a CVT transmission that's come a long way since the one on my 2007 car.  It shifts where it SHOULD shift, and the all new Valvematic variable valve-timing technology (inserted for those who know more about cars than if the rear view mirror is good enough to check out the hunk in back of the car), boosts horsepower and fuel economy by a good 5 percent.  Seriously, it gets BETTER MILEAGE than my hybrid for a LOWER PRICE.
Off topic
We seemed to come across a Giant Sloth in our travels….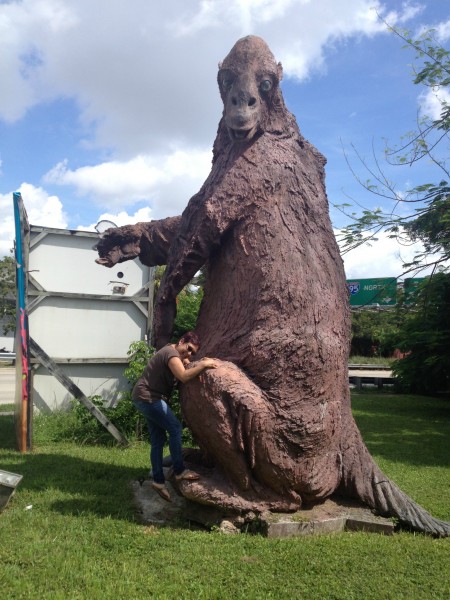 back to the car after trying to climb on it….
A girl's gotta have choices
With  two engine choices and three transmission options – L, LE and S models, you'll be able to pick the one that BEST fits your lifestyle. All are powered by a 1.8L four-cylinder engine with 132 horsepower and 128 lb-ft. of torque (I just wanted to use the word torque in a sentence). Of all of them, the Eco model is obviously the most fuel efficient.
The Wallet
The price point is wallet friendly, leaving plenty for mucho night's out on the town, a shopping spree at Loehmann's, and a trip to Vegas or two.
MSRP 
L  – $16,800.
LE – $18,300
LE Eco –  $18,700
S – $19,000
IMHO
This is the PERFECT car for your college student, new driver, or someone who needs a cute car to tool about town in. It's SAFE (hence the first driver), stylish, and great for anyone looking for a smaller car with GREAT gas mileage and comfort to boot.
The 411
Go to your local Toyota dealer and test drive one for yourself.
For details visit Toyota.com/Corolla